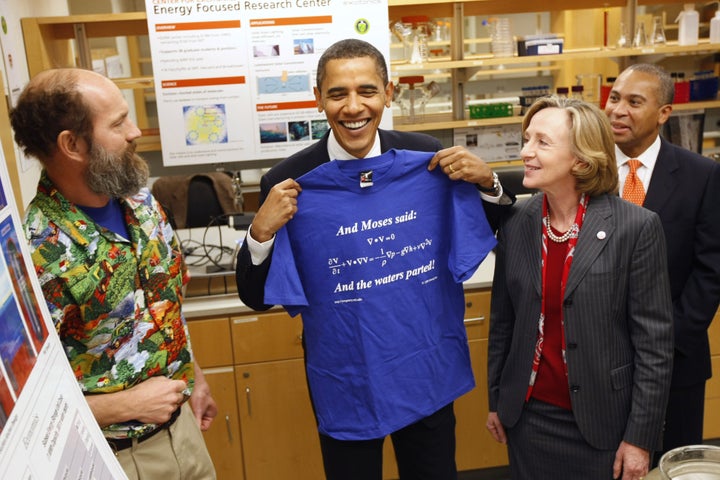 President Barack Obama toured a research laboratory at the Massachusetts Institute of Technology (MIT), where he took a tour of some of the cutting edge clean energy technology that has been in development by researchers there.
According to a press release from the White House's office of the press secretary, Obama was scheduled to visit stations at the research lab displaying solar, battery, and wind technology, as well as a LED light experiment.
See pictures of Obama's tour of the lab below.
The press release offered a brief overview of the technologies Obama was planning to see:
At the solar station, Professor Marc Baldo was to show Obama luminescent solar concentrators that collect sunlight for solar cells.
At the wind station, Professor Alex Slocum was to demonstrate an Offshore Renewable Energy Systems (ORES), for which excess power from a wind turbine pumps water out of a storage volume anchored to the seabed.
Professors Angela Belcher and Paula Hammond at the battery station were to display a high-power "clean" battery that can be made using biological processes, without toxic materials, and without adding harmful materials to the environment.
Professor Vladimir Bulovic was to demonstrate quantum dot lighting -- a possible replacement for light bulbs or fluorescent lights -- that combines warm, rich color with efficient LED technology.
Popular in the Community