The Obama administration on Wednesday sought to join two ongoing lawsuits against voting laws in Wisconsin and Ohio. In the filings, the Justice Department argued that a federal judge was right to strike down Wisconsin's voter ID law and that Ohio is incorrectly interpreting its duties under a provision of the Voting Rights Act.
Attorney General Eric Holder, who talked about the filings in an interview with ABC earlier this month, said in a statement on Wednesday that they "are necessary to confront the pernicious measures in Wisconsin and Ohio that would impose significant barriers to the most basic right of our democracy."
"These two states' voting laws represent the latest, misguided attempts to fix a system that isn't broken," Holder continued. "These restrictive state laws threaten access to the ballot box. The Justice Department will never shrink from our responsibility to protect the voting rights of every eligible American. And we will keep using every available tool at our disposal to guard against all forms of discrimination, to prevent voter disenfranchisement, and to secure the rights of every citizen."
The Justice Department argues in an amicus brief filed in the 7th U.S. Circuit Court of Appeals that a federal judge correctly determined that Wisconsin's voter ID law violated Section 2 of the Voting Rights Act because it has a discriminatory impact on black and Hispanic voters and also violated the 14th Amendment because it placed unjustified burdens on a large group of voters.
But DOJ took no position on the merits of the Ohio voting rights lawsuit, which sought to stop the state from cutting back on early voting and ending same-day voter registration. Instead, DOJ lawyers argued only that Ohio is "mistaken" about its duties under Section 2 of the Voting Rights Act.
In the year since the Supreme Court killed a key provision of the Voting Rights Act that prevented certain states from changing their voting practices without clearance from either DOJ or a federal court, the Justice Department has used another portion of the act to oppose voting laws in both North Carolina and Texas. Both of those cases remain ongoing. But Wednesday's measures mark the first time since that ruling that DOJ has joined voting cases against states that weren't covered by pre-clearance requirements previously.
In Wisconsin, the state is currently appealing a federal judge's decision to strike down a GOP-backed 2011 law that imposed photo ID requirements on voters in the state. DOJ's filing in that case encourages the appeals court to look at the "totality of circumstances," including examining whether "social, political, and historical conditions in Wisconsin hinder minorities' political participation."
In Ohio, civil rights groups are challenging a law passed by the Republican-led legislature earlier this year that eliminated a six-day period when voters had the chance to register to vote and cast an early ballot at the same time. In connection with a suit originally filed by the Obama campaign leading up to the 2012 elections, a federal judge recently ordered Republican Secretary of State Jon Husted to restore early voting on the final three days ahead of the elections. The lawsuit DOJ got involved in on Wednesday is a separate suit that revolves around the cuts made earlier this year, which bring the total number of early voting days down to 29 from 35.
This story has been updated to include more details on the lawsuits in Wisconsin and Ohio.
Before You Go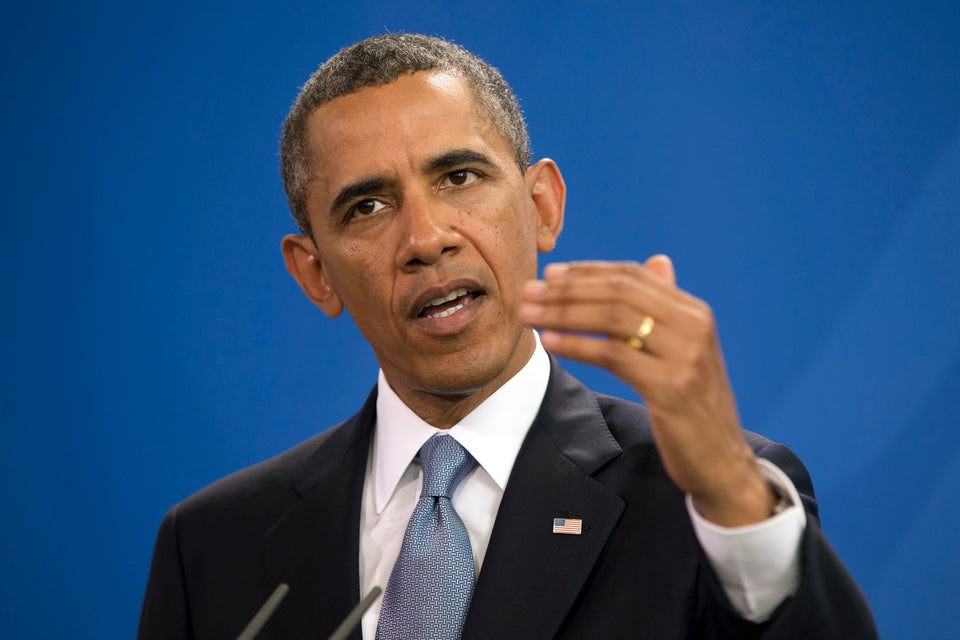 Politicians React To Voting Rights Act Ruling
Popular in the Community