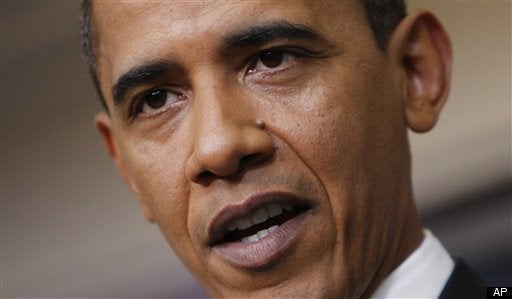 In late August, when town hall protests were putting the prospects of health care reform in doubt, the president's senior advisers convened in the White House to decide a best path forward. They needed to "go big," as one aide put it. But how would they do it? The group ended up settling on a major address to a bicameral gathering of Congress, laying out the reasons that reform legislation had to happen.
Nine months later, with health care reform now passed, the administration finds itself once again embroiled in major legislative gridlock with Republicans. This time the issue being debated is financial regulatory reform. Once again, Obama is going big.
The White House announced on Monday that the President will deliver remarks on the need to create new rules for Wall Street from the proverbial belly of the beast. Obama will travel to New York City on Thursday to give a major speech at Cooper Union, during which he will call for "swift Senate action" on financial regulation, according to Press Secretary Robert Gibbs.
The speech is designed in obvious consideration of the timing and optics of the issue. During the dog days of the Democratic primary more than two-years ago -- when the economy was stumbling but not yet at its nadir -- Obama spoke at Cooper Union to make an early pitch for changing the rules of Wall Street. (Just how unforeseen then was the extent of the forthcoming economic collapse? Obama's proposal that day was for homeownership relief and an additional, quaint $30 billion stimulus package)
HERE IS VIDEO FROM THAT ADDRESS:
On Thursday, the president seems likely to revisit that trip from two years ago, as a method for underscoring the need to finally produce legislative results. The content of the president's remarks aren't yet known. The speech is still being crafted. But a White House aide sent over the following background information to the Huffington Post.
A little less than a year ago Secretary Geithner released a white paper laying out a comprehensive framework for financial reform. We've been making steady progress on those proposals. We passed them through the House in the fall and now we're reaching a crucial moment in the Senate. The President wants to remind Americans what is at stake. We're coming up on the second anniversary of the financial crisis in a few months. It's time to move forward in passing financial reform.
Popular in the Community