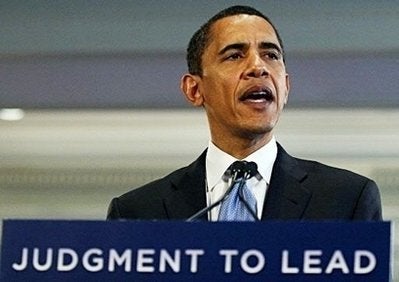 Media outlets have begun digging into Barack Obama's 2005 and 2006 earmark requests. Obama released them yesterday, and challenged Hillary Clinton to do the same. The New York Times reports:
His campaign's list said the senator had secured $1.3 million of an $8 million request in 2006 for a high-explosive technology program for the Army's Bradley Fighting Vehicle. The list said the program was overseen by General Dynamics.

One of Mr. Obama's top supporters, James S. Crown, serves on the board of General Dynamics, a military contractor. Mr. Crown is a member of Mr. Obama's national finance committee.

Mr. Obama also secured $750,000 of a $3 million request for renovation of a space center named for Mr. Crown's grandfather, Henry Crown, at the Museum of Science and Industry in Chicago.

In addition to the University of Illinois, Mr. Obama secured several million dollars for a project at Chicago State University. Emil Jones Jr., the president of the Illinois State Senate and an early and powerful political benefactor of Mr. Obama's, has been a dogged champion of Chicago State, and one of Senator Obama's closest friends. A Chicago businessman, James Reynolds, sits on its board.

But Bill Burton, a spokesman for Mr. Obama, said these requests had all been considered worthwhile by the senator's staff, and that Mr. Obama never discussed any of them with Mr. Crown, Mr. Jones or Mr. Reynolds.
Also: "In among them was a request for $1 million in federal funding in 2006 for a new pavilion at the University of Chicago Hospitals, where his wife, Michelle Obama, was a vice president at the time. The request was not ultimately included when Congress passed spending legislation that year, according to the Obama campaign."
Popular in the Community