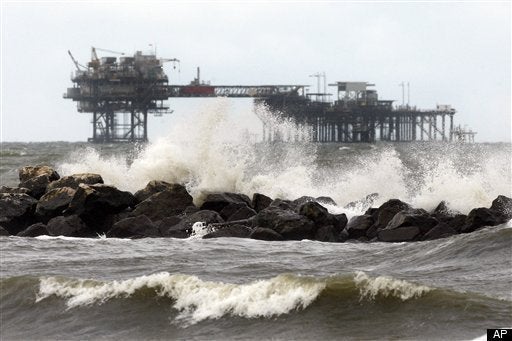 White House Press Secretary Robert Gibbs affirmed on Monday that President Obama remains committed to deepwater drilling once thorough safety checks are conducted on existing sites and the practice is determined to be safe.
Speaking hours, if not minutes, before the Department of Interior issued a new moratorium on deepwater drilling in the Gulf, Gibbs's comments offered a way for the administration to assuage critics who charge that the White House secretly wants to end all such drilling. In the end, the remarks may provide more fodder to those environmentalist who complain that the largest spill in American history has failed to temper Washington's addiction to oil.
"People's outrage is focused on BP," Anthony Leiserowitz, a researcher at Yale University who tracks public opinion on climate change told the Washington Post. The spill "hasn't been automatically connected to some sense that there's something more fundamental wrong with our relationship with the natural world," he said.
On Monday, the Obama administration is slated to introduce a second version of a moratorium it issued for deepwater drilling in the Gulf, after both a district and appellate court ruled the initial version lacked standing. Gibbs acknowledged that the temporary halt on the practice would likely have an adverse economic impact on the Gulf region -- which is why both Democratic and Republican pols from the area oppose the moratorium. But he insisted that the new version would both stand up in court and prove to be the responsible course of action.
"First and foremost, the president has and continues to believe that we have to be careful with what we are doing given the uncertainty of what happened 84 days ago," he said. "We know that is not without some economic consequence to the region. But it is imperative we have a sense of what happened before doing this again."
Gibbs said he thinks the complaints about the moratorium are off-base. The temporary halt would not affect shallow water drilling, he noted. Nor would it alter the administration's longterm commitment to drilling in deep water, provided that safety checks on the offshore wells come back in the clear.
When he was asked if the president ultimately wants deepwater drilling to continue if it is proven safe, Gibbs replied: "Yes."
UPDATE: At roughly 4:30 p.m. on Monday, Secretary of the Interior Ken Salazar announced the new deepwater drilling moratorium which, if upheld in court, would last until November 30, 2010 or until individual sites were proven safe.
The temporary halt was done through the Bureau of Ocean Energy Management, Regulation and Enforcement (BOEM), under the guise that a pause was needed to ensure adequate safety measures.

"More than eighty days into the BP oil spill, a pause on deepwater drilling is essential and appropriate to protect communities, coasts, and wildlife from the risks that deepwater drilling currently pose," said Secretary Salazar. "I am basing my decision on evidence that grows every day of the industry's inability in the deepwater to contain a catastrophic blowout, respond to an oil spill, and to operate safely."
During the moratorium, BOEM will be engaged in what Interior is describing as an "active public outreach effort with industry, academic experts, the public and other interested parties, and to prepare a report with recommendations on deepwater drilling."

REAL LIFE. REAL NEWS. REAL VOICES.
Help us tell more of the stories that matter from voices that too often remain unheard.