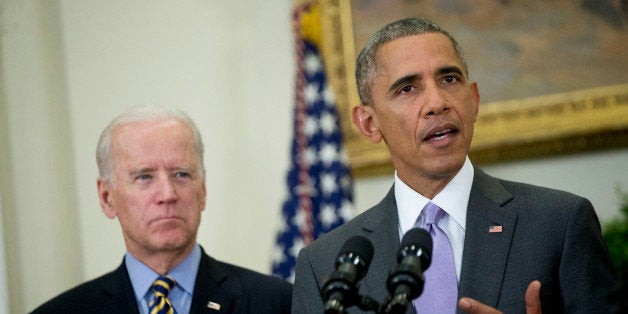 WASHINGTON -- Capitol Hill has been abuzz all week over President Barack Obama's request for authority to use military force against Islamic State militants.
Obama unveiled his proposed Authorization for the Use of Military Force on Wednesday, and it lays out parameters he wants on the military campaign against the Islamic State in Syria and Iraq, or ISIS/ISIL. It would limit military action to three years. It allows for limited U.S. ground troops. It puts no geographic limits on the military campaign, instead limiting military action to countering ISIS and associated forces. The AUMF itself would expire in three years.
But the reality is that Obama's proposal does nothing to impose new war limits. He's made clear that he believes a sweeping 2001 AUMF already gives him the authority to use military force against ISIS -- which he's been doing, under that authority, for the past six months. But he has said he welcomes a new AUMF from Congress anyway, as a show of support for the mission. The proposal Obama sent to Congress doesn't do anything to rein in the 2001 measure, which means that regardless of whether Congress passes an ISIS-specific authorization, that broad 2001 authority stays.
In other words, the only point of the new AUMF is to get Congress on record in support of the military campaign against ISIS.
There are arguments to be made for keeping the 2001 AUMF, at least in some form. It allows the president to take immediate military action in response to increasingly elusive enemies like al Qaeda or ISIS, for example. But many Democrats aren't happy about using a 14-year-old AUMF to justify another war in the Middle East.
"I am deeply concerned about the lack of repeal language for the 2001 AUMF, which has been and would remain a blank check for endless war," said Rep. Barbara Lee (D-Calif.).
"I have serious concerns about the breadth and ambiguity of this proposal," said Sen. Patrick Leahy (D-Vt.). "The executive branch's reliance on the 2001 AUMF to justify such things as indefinite detentions and drone strikes far from Afghanistan has taught that Congress must carefully limit any authority it grants a president to engage in war."
The 2001 AUMF isn't long, but its breadth is staggering. It came in the aftermath of the 9/11 attacks, and it authorizes the president to "use all necessary and appropriate force" against any nation, organization or person connected to al Qaeda. That includes ISIS, which used to be part of al Qaeda.
Rep. Adam Schiff (D-Calif.) called it a "significant omission" that Obama's proposal doesn't touch the 2001 AUMF.
"The reality is that without a sunset on the old authorization, it doesn't limit this administration or the next in any appreciable manner," said Schiff, one of few lawmakers who has been calling for a new AUMF. "When the new authorization expires three years from now ... the next president can rightly say, 'I'm going to rely on the 2001 authorization just as Obama did. It gives me every authority I need.'"
Lawmakers in both parties can amend Obama's proposal once it starts making its way through House and Senate committees. Democrats will likely have at least one proposal to rein in the 2001 AUMF. There have already been calls for for making the 2001 AUMF expire at the same time as the new authorization, in three years.
"I would think that one consideration might be is when this three-year sunset is there, that it sunsets '01 as well," House Minority Leader Nancy Pelosi (D-Calif.) said during a Wednesday press conference.
Sen. Tim Kaine (D-Va.), a vocal advocate for a new AUMF, said he could support new war authorization that doesn't repeal the 2001 AUMF as long as there is some kind of commitment by Congress to later address it.
"We need to work on a signification revision of the 2001 AUMF," Kaine said. "Whether that sense of urgency is expressed by including it in the authorization for ISIL, or whether it's expressed by really ramping up the effort to revise that authorization, we need to do one of those two things."
That's the approach Obama appears to be advocating.
"Although my proposed AUMF does not address the 2001 AUMF, I remain committed to working with the Congress and the American people to refine, and ultimately repeal, the 2001 AUMF," the president wrote to Congress in a letter accompanying his war authorization proposal. "Enacting an AUMF that is specific to the threat posted by ISIL could serve as a model for how we can work together to tailor the authorities granted by the 2001 AUMF."
Calling all HuffPost superfans!
Sign up for membership to become a founding member and help shape HuffPost's next chapter
BEFORE YOU GO
PHOTO GALLERY
Iraq War: What Else Could America Have Spent $800 Billion On?