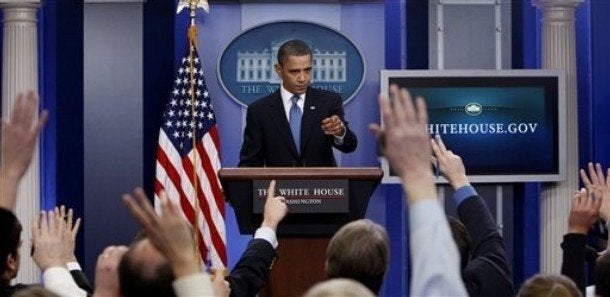 In a surprise appearance before the White House press corps on Tuesday, President Barack Obama announced he would consider using recess appointments to get his nominees to their posts if Senate Republicans deny them an up-or-down vote.
Speaking to reporters shortly after he met with a bipartisan group of congressional leaders, Obama said that he informed Senate Minority Leader Mitch McConnell (R-Ky.) that he would "consider" such a course of action if the GOP obstructionism continued.
"In our meeting I asked the congressional leadership to put a stop to these holds in which nominees for critical jobs are denied a vote for month," he said. "Surely we can set aside partisanship and do what's traditionally been done with these nominations."
"If the Senate does not act, and I made this very clear," Obama continued, "I will consider making several recess appointments during the upcoming recess because we can't afford to let politics stand in the way of a well functioning government."
On Tuesday, one of those nominees -- Craig Becker, who Obama appointed to sit on the National Labor Relations Board -- is slated to come up for a vote Senate. His confirmation was thrown into serious doubt recently when Sen. Ben Nelson (D-Neb.) indicated he would vote against cloture. Should Obama appoint Becker to the post through a recess appointment, he would be able to serve until the end of 2011 before requiring re-confirmation.
Noting the length that some nominations have been held up in Congress as well as the blanket hold that Sen. Richard Shelby (R-Ala.) placed on all presidential nominees last week, Obama called on lawmakers to "get past the tired debates that have plagued our politics."
Calling all HuffPost superfans!
Sign up for membership to become a founding member and help shape HuffPost's next chapter