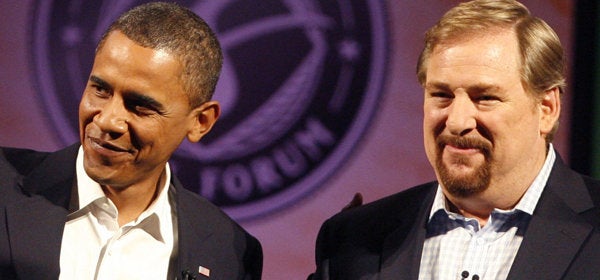 I'm pro-Obama, pro-gay rights. I'm a former once burned, twice shy, ex-evangelical, son of a founder of the Religious Right, now a writer excoriated by the right as a traitor. And Let me tell you why Obama is -- again -- wiser than his critics in picking Warren to pray at the inauguration.
Unlike his lefty critics lamenting Obama's ideological impurity, the President-elect is actually positioning himself to help gay rights. That is because he is going to actually govern, not stand on the sidelines complaining. As such he needs to do all he can to soothe the idiots, when it comes to the tough social/political issues that are the residue of 30 years of culture wars.
In inviting Warren, President-elect Obama is sending a signal that as President he is going to stick with resolve to doing the tough things when it comes to using some political capital on behalf of the gay community. He knows symbols are important and is softening the blow for the vast number of evangelicals to whom Warren is a hero.
As noted by Jim Wallis in his "Hearts and Minds" Sojourners post (December 19, 2008) a leading evangelical -- Richard Cizik -- who is progressive on environmental issues and gay rights, was just fired from the vice presidency of the National Association of Evangelicals for only daring to say he is warming up to the idea of gay civil unions.
Rich Cizik has been a pioneer in the "new evangelical" movement... Rich has helped lead the way to putting "creation care" and climate change on the mainstream agenda of the evangelical movement... because of things he said in an NPR interview with Terry Gross [he was fired]. The controversy of some of Rich's statements, in particular his "shifting" feelings about gay civil unions, admitting that he voted for Barack Obama in the primaries, and implying that he did so in the general election, caused so much controversy in some quarters of the NAE's constituency that the Executive Committee felt they had no choice but to suggest resignation, which Rich quickly but sadly accepted...
Here's the point for all you progressives that only talk to yourselves and haven't a clue about the "other" America: in a country where a national evangelical leader is fired for just voting for Obama, and thinking friendly thoughts about gays, the new progressive president has his work cut out!
If you all -- if we -- bitch each time Obama makes a strategic move, we are just shooting ourselves in the foot. Pipe down, and give him a chance. And by the way, America faces bigger problems right now than the window dressing at the inauguration.
Progressives are too used to failing. Stop worrying about little battles, you just won a war. It's all about real results now, not words, and not symbols. It is time to think like winners. The issue now is governance, not symbols.

Frank Schaeffer is the author of CRAZY FOR GOD-How I Grew Up As One Of The Elect, Helped Found The Religious Right, And Lived To Take All (Or Almost All) Of It Back. Now in paperback.
Calling all HuffPost superfans!
Sign up for membership to become a founding member and help shape HuffPost's next chapter