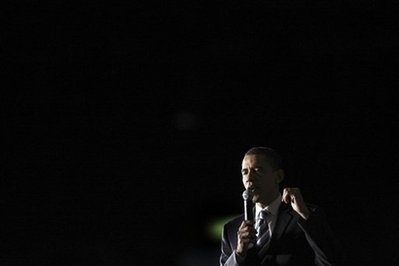 When residents in Illinois voiced outrage two years ago upon learning that the Exelon Corporation had not disclosed radioactive leaks at one of its nuclear plants, the state's freshman senator, Barack Obama, took up their cause.
Mr. Obama scolded Exelon and federal regulators for inaction and introduced a bill to require all plant owners to notify state and local authorities immediately of even small leaks. He has boasted of it on the campaign trail, telling a crowd in Iowa in December that it was "the only nuclear legislation that I've passed."
"I just did that last year," he said, to murmurs of approval.
A close look at the path his legislation took tells a very different story. While he initially fought to advance his bill, even holding up a presidential nomination to try to force a hearing on it, Mr. Obama eventually rewrote it to reflect changes sought by Senate Republicans, Exelon and nuclear regulators. The new bill removed language mandating prompt reporting and simply offered guidance to regulators, whom it charged with addressing the issue of unreported leaks.
Popular in the Community