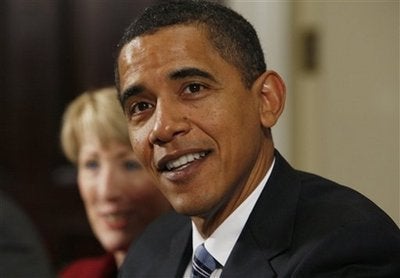 At a meeting in the Roosevelt Room with business leaders to discuss the economy, President Obama asked to make an unrelated comment -- on the weather.
"My children's school was canceled today, because of what? Some ice," Obama said, and all at the table started laughing.
"As my children pointed out, in Chicago school is never canceled," he continued. He said that in their old hometown, "you'd go outside for recess in weather like this. You wouldn't even stay indoors."
The President said he would have to bring "some flinty Chicago toughness" to Washington.
Asked if he was calling Washingtonians wimps, Obama responded: "I'm saying that when it comes to the weather, folks in Washington don't seem to be able to handle things."
More on topic, President Obama said he is "confident" the stimulus package will pass.
Popular in the Community