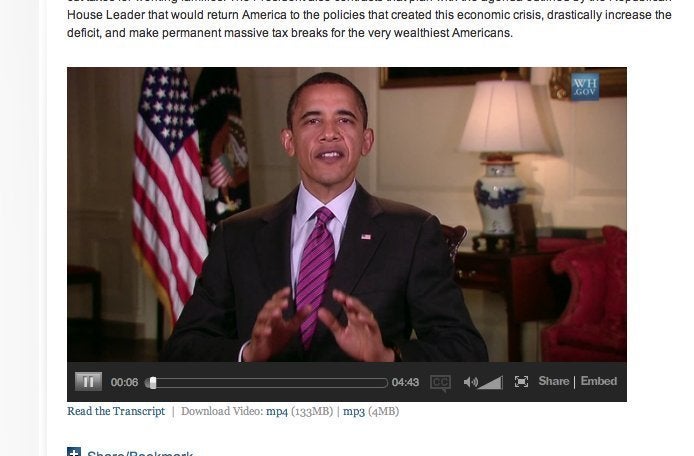 WASHINGTON - President Barack Obama is going after Senate Republicans who have stymied his proposal to create a $30 billion fund to help unfreeze lending for credit-starved small businesses.
His election-year push for additional job measures suffered a fresh setback this past week when the GOP blocked the small-business plan.
The president used his weekly radio and Internet address Saturday to accuse Republicans of "holding America's small businesses hostage to politics." He said the bill has the support of business groups and contains many ideas favored by both parties.
"Understand, a majority of senators support the plan. It's just that the Republican leaders in the Senate won't even allow it to come up for a vote," Obama said. "That isn't right."
Obama made clear that it's not only a policy disagreement, but a reason for voters to steer away from Republicans in November's pivotal congressional elections, which will determine whether Democrats keep their majorities in the House and Senate.
"When America is just starting to move forward again, we can't afford the do-nothing policies and partisan maneuvering that will only take us backward," he said.
The proposed fund would be available to community banks with less than $10 billion in assets, to help them increase lending to small businesses. The bill would combine the fund with about $12 billion in tax breaks aimed at small businesses.
Democrats say banks should be able to use the lending fund to leverage up to $300 billion in loans, helping to loosen tight credit markets. Some Republicans, however, likened it to the unpopular bailout of the financial industry.
Democrats wanted to pass the bill before Congress left town for summer vacation, but that won't happen with House members already headed home for its August break and the Senate in session for another week before its recess begins.
Congress has extended unemployment benefits for people who have been out of work for long stretches and passed a measure that gives tax breaks to businesses that hire unemployed workers. But many other initiatives stalled, in part because of concerns they would add to the growing national debt.
The vote to end a Republican filibuster on the latest measure was 58-42. Senate Majority Leader Harry Reid, D-Nev., joined all Republicans to vote to continue the filibuster, but only as a procedural step that allows him to call up the bill again.
Popular in the Community