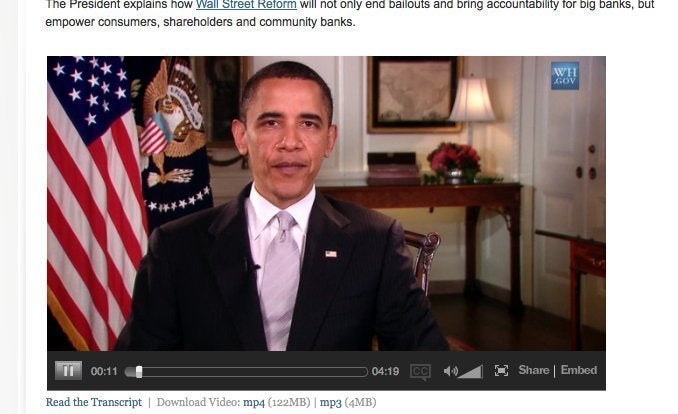 ERICA WERNER, Associated Press
WASHINGTON - Closer watch over Wall Street will help consumers make better informed choices about investing and shine light on the shadowy deals that caused the financial crisis, President Barack Obama said Saturday in pushing Congress to pass overhaul legislation.
In his weekly radio and Internet address, Obama said the bill also would curb predatory lending practices, prevent banks from taking on too much risk and give shareholders more of a say.
"Put simply, Wall Street reform will bring greater security to folks on Main Street," the president said.
"My responsibility as president isn't just to help our economy rebound from this recession; it's to make sure an economic crisis like the one that helped trigger this recession never happens again," he said. "That's what Wall Street reform will help us do."
The Senate is debating the broadest rewrite of the rules governing Wall Street since the Great Depression. A final vote is possible as early as the coming week. The bill would then have to be merged with the House's version.
The legislation would set up a mechanism to watch out for risks in the financial system, create a method to liquidate large failing firms and write new rules for complex securities blamed for helping precipitate the 2008 economic crisis. It also would create a new consumer protection agency, a key point for Obama.
The Senate version calls for an independent bureau within the Federal Reserve to write and enforce regulations that would police lending, while the House bill has a stand-alone agency.
"You'll be empowered with the clear and concise information you need to make the choices that are best for you. Well help stop predatory practices, and curb unscrupulous lenders, helping secure your familys financial future," Obama said.
"With reform, well make our financial system more transparent by bringing the kinds of complex, back-room deals that helped trigger this crisis into the light of day. Well prevent banks from taking on so much risk that they could collapse and threaten our whole economy."
Republicans and Democrats have bridged partisan divides to come together on some areas of the legislation, but the two parties still disagree on plenty.
Republicans used their weekly address to accuse Obama and Democrats of promoting economic policies that rely too much on spending and not enough on cutting.
The GOP address was delivered by Rep. Chris Lee of New York, who represents Buffalo. Obama visited the city Thursday to talk up his agenda for jobs and the economy, and Lee said he'd hoped the president "would listen -- really listen -- to what the people are saying."
What the president would have heard, according to Lee: Americans "want us to work together on commonsense solutions to stop the spending spree and focus on helping manufacturers and small businesses create jobs."
Lee contended that the economic recovery act passed last year never lived up to Democrats' promises that it would reduce unemployment and that Democrats' health care bill will cost taxpayers money, not bring savings.
"So our choice is this: Make the tough decisions required to put our fiscal house in order or continue to duck them," Lee said. "That's why Republicans have proposed several initiatives to cut spending now and make Washington do more with less, just as families and small businesses are."
Popular in the Community