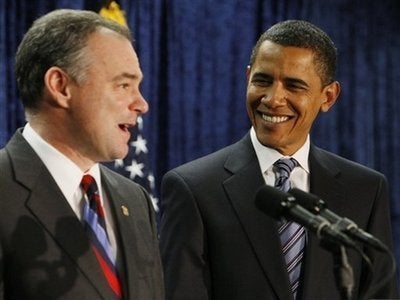 Barack Obama heaped praise on incoming DNC Chairman Tim Kaine during a press conference with the Virginia Governor at the party's headquarters on Thursday. Arguing that Kaine was the right type of inclusive figure to help lead the party going forward, the president-elect promised to "build a movement for change that can go beyond a single election."
But as Obama and Kaine beamed about the party's future, noticeably absent was the man who defined the recent past. Howard Dean was traveling as his successor was introduced. But the Vermont Governor was not left out entirely from the proceedings.
Said Obama: "For nearly four years Howard has served our party and our nation as a visionary and effective leader. He launched a 50 state strategy that made Democrats competitive in places they hadn't been for years... Howard deserve enormous credit for helping usher in a new era in Washington."
Kaine echoed many of the compliments and promised to build off the legacy and ethos that Dean brought to the party.
With no questions afforded to the press, the event was far more pomp and circumstance than hard news. Kaine promised a three-prong approach during his tenure: "Promote this president's agenda, carry the proud banner of a proud party, and work to engage citizens in new ways..."
Obama, meanwhile, painted the incoming and outgoing DNC Chairs as cut from the same -- and his own -- political cloth.
"Tim [Kaine] knows that breaking free of the old orthodoxies and reaching across party line isn't just a way to build the Democratic Party but a way to achieve progress for all Americans," he said.
If there was one potential slip-up, or at the very least a hook for GOP critique, it came early in the event, when Obama discussed the need for the party to shed its "ingrained habits, like taking money from federal lobbyists and special interests and relying instead on donations from ordinary Americans."
The knock on Kaine, at least from the Republican perspective, is that he is tied too closely to corporate interests to fit with Obama's message. Earlier this week, the RNC blasted out a story from Bloomberg News noting that Kaine serves as "chairman of the Southern Governors' Association, a group that raises money from tobacco, oil, energy and pharmaceutical companies in exchange for access to governors and other state officials."
Popular in the Community