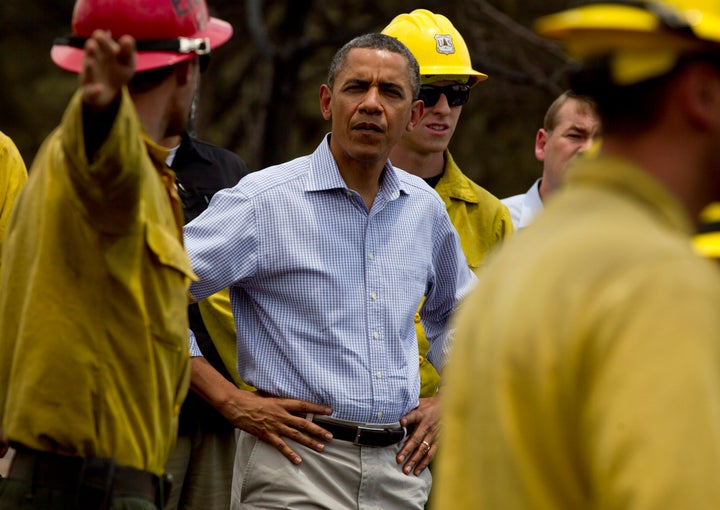 WASHINGTON -- The back-and-forth over welfare reform continued on Monday afternoon when President Barack Obama's campaign denounced Mitt Romney's latest "complete and utter lie" about welfare.
"We've now all heard Mitt Romney and Paul Ryan talk about how they want to elevate the level of debate in this campaign," Obama for America spokeswoman Stephanie Cutter said during a conference call with reporters. "It's been 48 hours since Mitt Romney made his choice for running mate and they're already failing their own test."
Earlier on Monday, the Romney campaign released its second TV advertisement falsely claiming that the Obama administration had eliminated work requirements from welfare, formally known as the Temporary Assistance for Needy Families program. In 1996, welfare reform changed the program from a federal entitlement into a program run by states within new federal rules, including time limits for benefits and requirements that a certain number of welfare recipients engage in "work activities."
In July, the administration said states could apply for waivers from some of the rules if they wanted to try out "demonstration projects" that would get more people off the welfare rolls and onto the employment rolls. Numerous newspapers and fact-checkers have pointed out that inviting states to apply for waivers is different from gutting welfare's work requirements -- even Romney surrogate Newt Gingrich admitted there is "no proof" the waiver announcement is the same as gutting work requirements. But in the new ad, the Romney campaign repeats its claim that Obama "ended work requirements for welfare."
Rhode Island Gov. Lincoln Chafee (I) and Delaware Gov. Jack Markell (D) joined Cutter, the campaign spokeswoman, in denouncing the spot.
"I'm not encouraged or impressed by this new ticket's first attack," Chafee said, after pointing out that Romney had supported increased waiver authority in 2005, when he was governor of Massachusetts.
"The bottom line is that president Obama … recently gave states more tools to help states move more people from welfare to work as quickly as possible," Markell said. "The basic idea is this: Welfare reform rquirees states to move people from federal assistance to work, but some parts of the program are not as efficient as they ought to be, and sometimes caseworkers end up spending more time doing paperwork than helping people find work. So for years states have asked the federal government for flexibility for more successful programs that better use our resources."
Cutter concluded, "I think it's pretty clear that the ad the Romney-Ryan campaign is running right now -- that they are spending millions of dollars to put on the air, that Mitt Romney personally signed off on -- is a complete and utter lie."
The Romney campaign responded to the Cutter conference call with a statement claiming Obama has undone welfare reform, even though no waivers have been granted.
"The facts are clear: President Obama's executive action dismantles welfare-to-work and undermines the very premise of bipartisan welfare reform," Romney spokesman Ryan Williams said in an email. "As president, Mitt Romney will immediately rescind the Obama executive action and ensure that work requirements are a part of welfare. On this issue, Mitt Romney and Barack Obama couldn't be further apart."
This post has been updated to include a comment from the Romney campaign.
Calling all HuffPost superfans!
Sign up for membership to become a founding member and help shape HuffPost's next chapter
BEFORE YOU GO
PHOTO GALLERY
Romney-Ryan 2012 Soundtrack