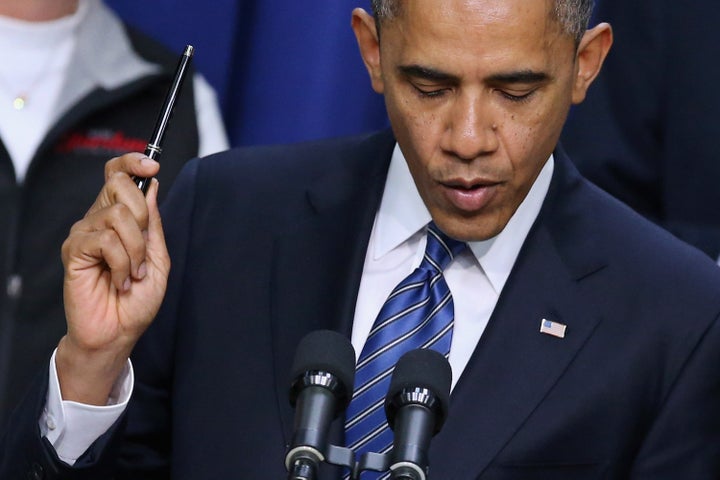 WASHINGTON -- The White House did not inform a key Senate backer of whistleblower protections ahead of time that President Barack Obama would issue a signing statement circumventing those provisions in the National Defense Authorization Act of 2013, according to the senator's office.
The protections for federal government contractors had been pushed by Sen. Claire McCaskill (D-Mo.) during the drafting of the NDAA over the last several months. After Obama signed the bill into law on Wednesday, he issued a signing statement objecting to those sections without having alerted McCaskill, her office told The Huffington Post.
The signing statement is yet another chapter in the president's ongoing clash with whistleblower advocates. Obama, who has come under fire for his administration's aggressive prosecution of leak cases, issued the statement despite the fact that the House Permanent Select Committee on Intelligence had already removed from the bill protections for contractors working in the intelligence community.
The whistleblower language backed by McCaskill and Sen. Carl Levin (D-Mich.) was designed to extend protections to 12 million employees of federal contractors if they disclosed information they reasonably believed would expose illegality, gross waste or gross mismanagement within the federal procurement system. The nonprofit Government Accountability Project, which lobbied for the measures, said they would apply to Defense Department contractors, subcontractors and grant recipients permanently and to all civilian federal agency contractors under a four-year pilot program.
Obama's signing statement, which was released early Thursday morning, maintained that the provisions "could be interpreted in a manner that would interfere with [the president's] authority to manage and direct executive branch officials."
The president said his administration would interpret the whistleblower provisions in a way that still allowed him to direct heads of federal agencies "to supervise, control, and correct employees' communications with the Congress" if those communications would be unlawful or "reveal information that is properly privileged or otherwise confidential."
A spokesman for McCaskill's office told HuffPost that the administration had not raised issues about the whistleblower protections with her office before the signing statement was issued. "If they had, we would have been happy to have a conversation about any concerns the administration had about the provisions," said McCaskill spokesman Drew Pusateri. "Claire has been a longtime supporter of the provisions, believes in them, and looks forward to seeing them enforced."
But Tom Devine, legal director of the Government Accountability Project, said the language of Obama's objections could have been much worse.
"The president's expressions of concerns were a milquetoast version of traditional Pentagon fretting about whistleblowers," Devine told HuffPost. "We all considered them so muted that it was almost like tacit support for making those rights, expanding those rights."
In contrast to McCaskill's office, Devine said he was aware of the White House's issues with the whistleblower provisions before Obama issued the signing statement. A White House spokesman did not respond to requests for comment, while a spokeswoman for Levin said the senator had no statement on the matter.
"What we've seen is President Obama prosecuting more aggressively than his predecessors on leaks," Devine said. "At the same time, though, he's provided unprecedented support for free speech rights overall within the executive branch."
Rep. Jackie Speier (D-Calif.), another strong advocate of whistleblower protections, issued a statement Friday evening describing Obama's signing statement as "deeply disturbing."
"Congress has the authority and responsibility to oversee the operations of the executive branch. It is our duty to ensure the laws we create are faithfully executed, and that taxpayer dollars are used responsibly," Speier said, adding, "It is because of the brave actions of contractor employees like James Brady that taxpayers were able to recover $80 million in fraud in Iraq and Afghanistan. Without whistleblowers, Congress cannot effectively perform our constitutionally implied oversight obligations."
This story has been updated with comment from Rep. Jackie Speier.
Popular in the Community