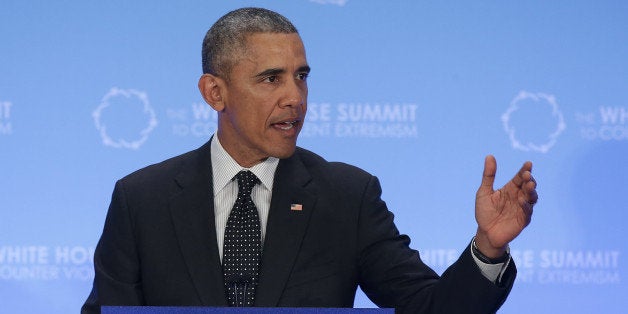 WASHINGTON (RNS) President Obama said Thursday (Feb. 19) that governments across the globe are obligated to confront the "warped ideologies" that lead to terrorism, "especially their attempt to use Islam to justify their violence."
National leaders must also dispute claims that there is a clash of civilizations in the world, the president said during a second-day speech at the White House Summit on Confronting Violent Extremism.
"The notion that the West is at war with Islam is an ugly lie," Obama said. "And all of us, regardless of our faith, have a responsibility to reject it."
Obama also addressed summit delegates on Wednesday (Feb. 18) in a session devoted to discussing how local communities can help dissuade young people from following the path of violent extremism.
Obama said in his Thursday speech that "nations need to break the cycles of conflict, especially sectarian conflict, that have become magnets for violent extremism."
Examples include the civil war in Syria and clashes between Sunnis and Shiites across the Middle East: "Countering violent extremism begins with political, civic and religious leaders rejecting sectarian strife," Obama said.
As he did Wednesday, Obama said governments must also deal with the economic and political grievances that can fuel appeals to terrorism.
Education, jobs, economic opportunity, and commitment to the rule of law can also help officials stop terrorist threats against Muslims and other religious groups.
"We have to ensure that our diverse societies truly welcome and respect people of all faiths and backgrounds," Obama said. "Leaders set the tone on this issue."
REAL LIFE. REAL NEWS. REAL VOICES.
Help us tell more of the stories that matter from voices that too often remain unheard.
BEFORE YOU GO
PHOTO GALLERY
Amazing Mosques