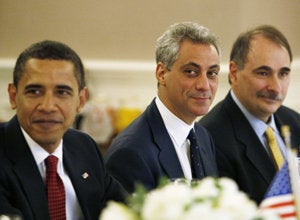 "When President Barack Obama moved into the White House earlier this year," the Chicago Tribune's John McCormick reports, "he took several of his fellow Chicago millionaires with him."
Newly released disclosure reports show virtually all of the top Chicagoans serving in the West Wing had assets valued at a million dollars or more at the end of 2008. [...]

Some of the wealth can be attributed to the fact that the top staff members surrounding Obama -- such as Chicagoans Rahm Emanuel, David Axelrod and Valerie Jarrett -- are from a big city where salaries tend to be higher. Many of the comparable senior staffers with the previous two presidents came from Austin, Texas, and Little Rock, Ark., where salaries for top professionals tend to be the lower than in Chicago.
The nonprofit journalism organization ProPublica has launched a reader-driven probe into the financial disclosure forms of these and other White House officials. Due to President Obama's strict new ethics requirements, appointees have released comprehensive information about their personal finances.
ProPublica gathered all of these documents on this website so that readers can sift through them.
If you enjoy reading through financial documents and government legislation, sign-up here to join our citizen research team.
Related
Popular in the Community