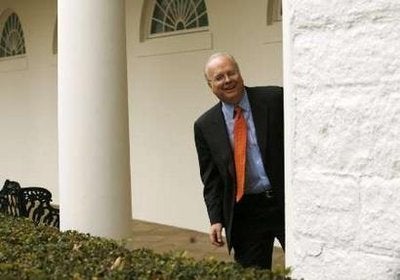 Subpoenaed by Rep. John Conyers to testify before Congress, Karl Rove has left the debate over whether or not he is protected from testifying to Barack Obama.
The former Bush strategist had previously refused to appear before the House Judiciary Committee by claiming that executive privileges allowed him to keep his conversations with the president private. With Bush out of office, Rove instructed his lawyer, Robert Luskin, to ask the Obama White House whether the same privileges currently exist.

Asked for an answer at the White House briefing session, Press Secretary Robert Gibbs said Obama's legal counsel was still looking into it.
"The office of White House counsel is studying those issues and will advise us when we have a recommendation," Gibbs said.
It is a fairly clever maneuver on Rove's behalf -- forcing Obama to make a judgment on executive privileges that could have ramifications later in his presidency. But it is also, probably, the only move he could have made, beyond acquiescing to Conyers' demand and traveling up to Capitol Hill.
Popular in the Community