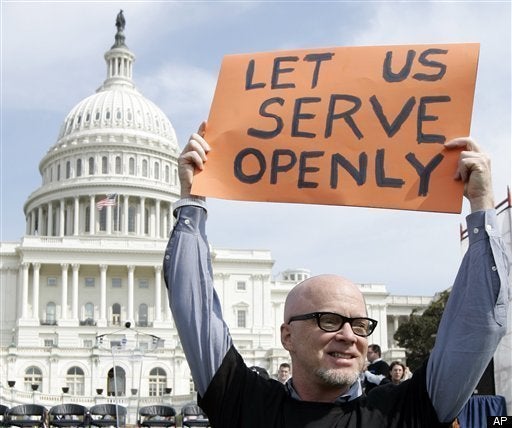 UPDATE: White House senior adviser David Axelrod confirmed on Wednesday evening what the Huffington Post was reporting earlier: that the President will address "Don't Ask Don't Tell" during his State of the Union address and, it seems, push for a repeal of the policy.
Asked by CNN's Wolf Blitzer whether Obama will call for overturning the policy tonight, Axelrod said the following:
"Well, look, this is a position the president has held. He has been working with Secretary [Robert] Gates and Admiral [Mike] Mullen. Obviously it will take an act of Congress to do that. They will have to usher in that transition. And we're going to continue to push to get that done. We don't feel -- we don't think it's a just policy, but it's also not a good policy for our national security interests.
Axelrod stressed that repealing "Don't Ask Don't Tell" was "a priority" but that "the biggest priorities are economic."
President Barack Obama will directly address the military's "Don't Ask, Don't Tell" policy in his State of the Union address on Wednesday evening, sources on Capitol Hill and in the gay-rights community tell the Huffington Post.
What exactly he will say about it remains a topic of intense debate, however -- though the betting among plugged-in sources is that he will call for its repeal.
"It is going to happen," said a source in the gay-rights community. "And it is going to be brought up in a somewhat significant way. But what that significance is we don't know." A Hill aide confirmed that the White House communications department told congressional press colleagues that the president would discuss the policy during his prime-time speech.
The pressure on Obama to address DADT during the speech has been mounting for several weeks now, as congressional negotiators discuss overturning the law, which allows gay members to serve in the military but only with their sexuality hidden, in the upcoming defense budget.
During his presidential campaign, Obama vowed to end the policy. Once in office, he outraged the gay rights community by putting it off.
On Wednesday morning, another effort was made to preemptively move Obama's hand. General John Shalikashvili, who helped implemente "Don't Ask, Don't Tell" as chairman of the Joint Chiefs of Staff during the Clinton presidency, released a statement calling for a full repeal.
Studies have shown that three-quarters of service members say they are personally comfortable around gays and lesbians. Two-thirds say they already know or suspect gay people in their units. This raises important questions about the assertion that openly gay service would impair the military. In fact, it shows that gays and lesbians in the military have already been accepted by the average soldier.

Additionally, at least twenty-five foreign militaries now let gays serve openly, including our closest ally, Britain. Although we lead rather than follow these militaries, there is no evidence suggesting that our troops cannot effectively carry out the same policy change as those nations did.

In 2008, a bi-partisan panel of retired General and Flag officers carefully reviewed this matter for a year and concluded that repeal would not pose a risk to the military's high standards of morale, discipline, cohesion, recruitment, or retention. Interestingly, an increasing number of active-duty officers who have reviewed "don't ask, don't tell" indicate that the policy, not the presence of gays, is detrimental to the armed forces' need for skilled personnel who are able to serve without compromising their integrity and, by extension, that of the armed forces as a whole.

As a nation built on the principle of equality, we should recognize and welcome change that will build a stronger more cohesive military. It is time to repeal "don't ask, don't tell" and allow our military leaders to create policy that holds our service members to a single standard of conduct and discipline
Calling all HuffPost superfans!
Sign up for membership to become a founding member and help shape HuffPost's next chapter