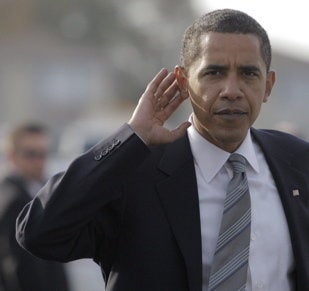 An ad attacking Sen. Obama, apparently just released, convincingly fakes Obama's voice, with him saying he is against various conventional defense systems. The ad was running Monday and election eve on CNN. It comes from a group called letfreedomring.com.
The ad's clear aim it to instill fear in less informed voters hours before the polls open. The ad says that a President Obama would fail to protect the nation or keep it safe.
I posted something earlier tonight on this to learn if others had seen or heard the ad, and indeed others have. It seems to have minimally run in the tri-state area of NY, NJ, and CT; Tennessee, and the critical battleground state of Virginia.
If Obama had said that he was against conventional defense systems, including nuclear as we hear in this ad, McCain and the news media would have surely attacked him for this weeks ago, and run legitimate ads on the subject.
Instead, these ads are being run by a PAC, I presume, and in the final hours before the polls open.
One wonders how widespread this campaign is, and whether it can have any effect in closely contested battleground states among very poorly informed registered voters who may now be motivated to vote when they wouldn't have been yesterday. Also consider they are being hit with a barrage of Rev. Wright race-baiting attack ads from other PACs.
The proportion of such voters may only be a couple percent, but even that very small percentage can make the difference in a very close state. After all, we do not know all the parameters to consider in current polling with the first African American candidate.
If I'm correct that such an ad could bring some people to the polls who were not planning to vote a few days ago, the ad can have a real effect as polls are generally predicated on "likely voters."
Getting unlikely voters up and out the door to their polling place and phoning their friends may be one of the aims of this malicious smear ad, based in complete untruths.
I think Sen. Obama will emerge victorious tomorrow, but it might be much tighter than some think.

Calling all HuffPost superfans!
Sign up for membership to become a founding member and help shape HuffPost's next chapter