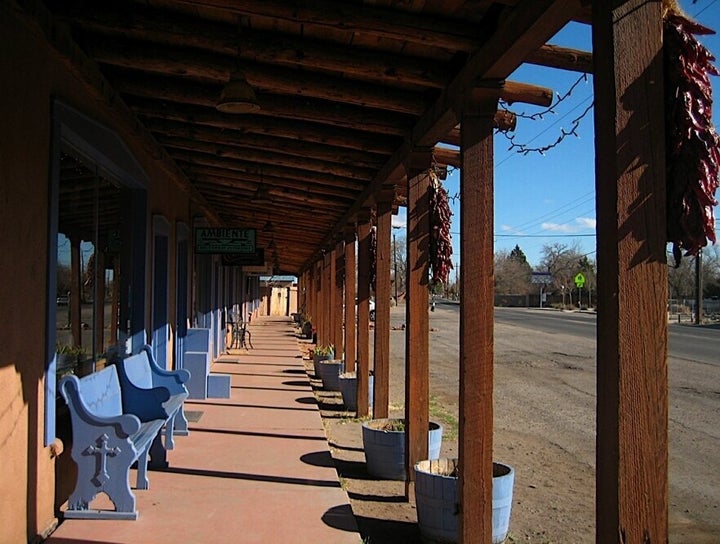 It's Indian summer and New Mexico highway 448 is punctuated with campaign signs for McCain and Udall. This anomaly -- for John McCain is the Republican nominee for President and Tom Udall the Democratic nominee for the open Senate seat in New Mexico -- makes perfect sense along this narrow winding road beside the Rio Grande. This is old New Mexico, or at least a small piece of it, centered on the town of Corrales, from which spread out up and down the road the small farms and the horse ranches that for a century have given this stretch of the river its character. To the outside world, the farmers are Hispanic, but among themselves and other New Mexico old timers, they are the Old Spanish, for they trace their ancestry back to the sixteenth-century Conquistadores, the first Europeans to settle the area (incidentally long predating the Puritans' landing at Plymouth Rock). The later arrivals were the occasional Italian or French family, and by the 1920s Highway 448 was lined with apple orchards, of which only a few remain, and with stills, since disappeared.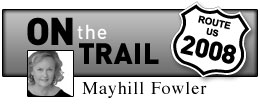 When John McCain says, as he did in Albuquerque September 6, "I also understand water issues, I understand land and water," he's appealing to the citizens of places like Corrales. "In Arizona, we have so little water sometimes the trees taste the dogs. It's terrible. So I understand Native American issues, I understand federal lands, I understand our issues. I am a western Senator, and I will carry our issues to the Oval Office." Land and water are indeed the issues for Corrales. When the Rio Puerco to the west dried up at the end of the nineteenth century, the farmers there moved to the lower ground along the Rio Grande, fitting in as best they could among relatives in the old families -- Gonzales, Martinez, Baca, Chaves, Leal, among others -- who trace their land and lineage to the Alameda Land Grant of 1710. Descendants of the newcomers still tell stories about their grandparents eating the weeds in the ditches in order to survive. Not surprisingly, therefore, Corrales folk prize a tough independent spirit, which has colored area politics. Since the days of FDR, the Old Spanish have been registered Democrats; but of late this allegiance has been more of a tradition than any real indication of how or even if New Mexico Hispanics will vote. The McCain and Udall yard signs tell the real story. Belief in family, reverence for family history, appreciation of the basics in land and water, Catholic Christian faith -- these priorities have shaped Corrales and its beliefs. McCain as a western rancher himself can lay claim to an understanding of these priorities. Udall is a scion of one of the great political ranching families, Mormons who settled the Southwest in territory days. Is it any wonder then that both men are a presence along Highway 448?
As bootlegging in Corrales came and went, so a different kind of change is currently unfolding. Today the outskirts of Albuquerque touch one end of this pastoral village and the growing bedroom community of Rio Rancho the other. Long-time resident Jan Lewis can remember when Highway 448 was a dirt road. Even now all the lanes branching off the main road are dirt and gravel; but today they are lined with new and expensive adobe-look houses. Jan points to the distant mesa densely dotted with more. Only a few years ago, the mesa was bare. "New Yorkers and Californians -- rich people -- they've moved in," she says, with displeasure. "Corrales is now the 'hot' place to live." I'd noted the posh creep long before I pulled into Wagner's vegetable stand and cafe parking lot, dusty and nearly full late on a Saturday afternoon. Jan, who has been registering new voters in the shade of Wagner's porch, is glad to take a break. We talk for an hour or so while Old Spanish and new Anglos, the newest of newcomers, push carts loaded with gunny sacks of Sandia and Big Jim chiles out to cars and trucks. The air is charged with chile, for around the corner customers wait for their sacks of provender to be roasted in one of the six mesh-sided iron drums turning on spits over hot fires in an open-sided shed.
Jan has been registering the inhabitants of Corrales for several weekends (thirteen Republicans today, more Democrats last weekend, some cross-overs from Republican to Democrat), and she is amazed at how many people here are not registered to vote. Partly it's the change in residence, she says. But also it's the custom and habit among the Old Spanish that women not vote. This is the same phenomenon that has bedeviled Texas, as I discovered last February and March while covering the Texas primary. Jan, an Independent and an Obama supporter, has taken it upon herself to get the Hispanic women among her acquaintance in Corrales to the polls. For the middle-aged, this will be their first vote for a President of the United States. According to Jan, these women, under her influence, are coming out for Barack Obama. Some of the newcomers up on the mesa are liberal Democrats and therefore also Obama supporters. These are the two growing populations in New Mexico -- coastal transplants, who tend to be less socially conservative than the indigenous Catholic Hispanics, who themselves are roughly 42% of the New Mexico population, an increase of almost 10% from 2000 to 2005.
Gabriel Sanchez, Assistant Professor of Political Science at the University of New Mexico whose specialty is Hispanic politics, says that the farming and ranching vote is still important, but that its influence is waning. "It still matters," Sanchez says. He gives as an example the close race between Democrat Patricia Madrid and Republican Heather Wilson for the 1st Congressional District House seat in 2006. "Madrid really did not reach out to the [farming and ranching] community, and that cost her." On the other hand, that vote is a stable population. "This state is seeing a surge in growth, and so the power of that [farming and ranching] population is being diminished more every year." Just like Jan Lewis, Gabriel Sanchez points to the influx of people from New York and Los Angeles, to the growth of Rio Rancho and West Albuquerque.
Jan's maternal paternalism in harnessing the Old Spanish women's vote derives from an old mindset, appropriate to old Corrales perhaps, but not to the rest of the state, where Hispanics are organizing, using their numbers (again, almost half the population) to flex political muscle. Getting out the vote in Northern New Mexico, where nortenos in Rio Arriba County, for example, comprise nearly 80% of the populace, is key to any victory. Here, for Obama, is the untapped resource that potentially can more than make up for the 6,000 vote margin by which John Kerry lost New Mexico to George Bush in 2004. Here, for McCain, are socially-conservative Catholics, Hispanics whose families have lived in the northern valleys for centuries and therefore, as Old Spanish, are not particularly concerned about issues of immigration. The Northern New Mexico Hispanics are a political gold mine for three reasons: many have never registered to vote; others while registered have not voted (a quarter of the registered population has not voted in at least one and often two of the last four elections); in familiar New Mexico style, the overwhelmingly Democratic Hispanics, those who are registered, sometimes vote Republican. The Obama Campaign has targeted the norteno vote. The RNC/McCain Campaign has yet to do so. As Gabriel Sanchez notes, "Obama is spending more in New Mexico on the Hispanic vote than both parties spent total for Hispanic outreach in '04."
If Obama wins New Mexico, will it be his superior organization or his person that delivers those five electoral votes? On the one hand, the depth and breadth of the Obama Campaign's grassroots in New Mexico is astonishing. There are thirty-five field offices from Shiprock on the Navajo Nation in the North to Anthony on the Border in the South. Governor Bill Richardson opened the Hispanics for Obama office in Santa Fe last week. More offices are opening--for the largely-Hispanic towns of Chama (population 1250) and Chimayo (population 2789) in the North, for example. A national team out of Chicago, as well as the stalwart Marshall Ganz, who presided over so many Camp Obamas training volunteers in the summer of 2007, worked with 130 locals at Hispanic Camp Obama in Albuquerque September 12-13. Although the Obama Campaign's grassroots organizing failed to deliver California and Nevada, it may carry the day in New Mexico. (In a subsequent piece, I investigate the ground games of the campaigns in the North.)
But the number one reason Barack Obama, going into the first debate with John McCain, has the Hispanic vote margin in New Mexico (59% to 35%, according to the latest Public Policy poll of September 22) is the fact that he traveled to the old city of Espanola for a much-anticipated rally. Juan de Onate claimed the area for Spain on July 11, 1598. Descendants of those adventurers were among the crowd who saw and heard Barack Obama on September 18, 2008. No presidential candidate since John Kennedy has campaigned north of Santa Fe, as the locals remind everybody. They are also quick to point out that their lack of enthusiasm for the voting booth in 2004 is the fault of John Kerry, for not bothering to travel north. In the end, showing up can be everything.
The crowd waiting patiently for Senator Obama last Thursday morning on the plaza in old downtown Espanola was a microcosm of Northern New Mexico. Middle class and upper middle class white folks drove up from Santa Fe and over from Los Alamos. Down from Taos were tanned and sandaled older women, sporting gray hair in buns or braids, and wearing long skirts cinched with worked silver belts. There were a few Native Americans from the nearby pueblos and more than a few Sikhs from the 300 families who call Espanola home, living in the mother ashram for all Sikhs in the West. But mostly there were Hispanics, probably half the crowd of 9,500, whose faces testified to the realities of migration and conquest. I had read that there is little intermingling between Hispanics and Native Americans in New Mexico; but the faces on the plaza in Espanola seemed to give that factoid the lie. Later Christina Castro, the Obama Campaign Native American vote coordinator for the eight northern pueblos and herself a Jemez Pueblo, confirmed my thinking. "Of course, there's intermarriage; but people don't talk about it" -- the reason being, as Christina said with asperity, the low status of Native Americans even today.
Christina and I talked a bit about the other histories in the faces of New Mexico Hispanics: Arab, Berber, Semitic, all testimony to the heyday of Islamic civilization in Spain. Moreover, the resemblance between Barack Obama (he is evidence of the Arab presence in East Africa) and some of the Old Spanish is striking. The people on the plaza certainly felt an affinity with Obama. "He is one of us." This comment, which seemed to reach beyond ethnicity to consanguinity, I heard frequently over the three days I spent in Espanola. So Obama not only showed up, but he looked familiar when he did. More importantly, Obama satisfied the anticipatory sense among nortenos that he gets who they are, even though most of his speech in Espanola addressed issues of Wall Street and Washington. The small crowd among whom I sat, in the shade across the street from the plaza, were people of modest means, some without bank accounts, none with computers or cell phone plans. Freddy, an elderly Hispanic gentleman who had come down from Pilar, hoped that Obama would lower gas prices. This seemed to be a common sentiment. "I am for Obama, because we live like Lazarus on the scraps from the table," Freddy said. "But in the end, what God wills."
Obama's showing up was an act of respect. That, more than any specific policies he proposed, confirmed people in their good sense to stand in the sun for four or five hours to wait for him. Obama, having made an enchilada stop in Bernalillo, was very late. Nevertheless, the locals' pleasure in the Democratic candidate's historic appearance spread out in waves through the surrounding valleys over the weekend. By Sunday, Geraldine Sanchez, the McCain Campaign volunteer coordinator for Espanola and Rio Arriba County, had already been frantically calling Campaign HQ down in Albuquerque. "Send me somebody! A surrogate! Anybody!" Mrs. Sanchez told me she begged. But the New Mexico Campaign brushed her plea aside. "'Everybody wants somebody.' That's what they told me," Mrs. Sanchez said, in despair. No better example of the ad hoc strategy of his campaign is McCain's failure to use the long spring months, while Clinton and Obama were still fighting for the Democratic nomination, to visit the small towns of the battleground West in his role as a western Senator. It's easy to forget now that the 2007 Pew Hispanic survey showed only tepid support for Barack Obama. And John McCain's brand of conservatism, strictly speaking, according to Michael Rocca, Assistant Professor of Political Science at the University of New Mexico and a student of Southwest and American politics, is much more in line with local thinking. "The types of positions he [McCain] takes play well here." Furthermore, Barack Obama is much more liberal, according to Rocca, than most citizens of New Mexico. "Forty days from now it will be an increasingly tight race," Rocca predicts for his state. But time is running out for McCain to make his case for the Hispanic vote in New Mexico. And above all, he will have to show up.
Note: When I return to Corrales two days later, three Obama signs have appeared along Highway 448.