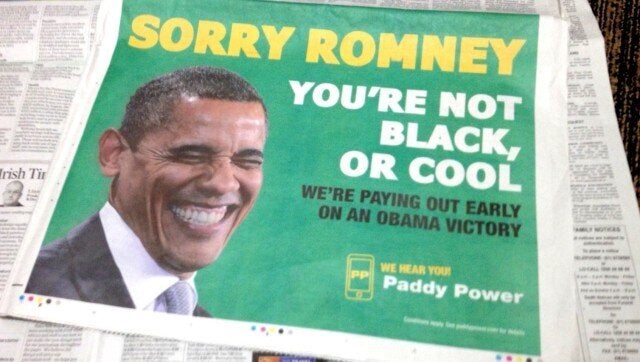 No need to wait until the last chad is counted -- heck, no need to wait until the polls close on Nov. 6 to find out who won the U.S. presidential election. Irish bookmaker Paddy Power has called the victory for President Barack Obama, even putting its money where its mouth is by pre-emptively paying out a whopping $650,000 on Obama bets.
According to the Christian Science Monitor, the Irish betting firm took out a half-page ad in the Irish Times newspaper, which read, "Sorry Romney, you're not black or cool. We're paying out early on an Obama victory."
Paddy Power spokesman Ken Robertson denied allegations the ad was racist or stereotyping, according to The Journal. He explained:
The ad is a statement of fact – the President of the USA is black, and we're saying he's cool. We're not saying he's cool because he is black – he's cool because he's the president of the free world, who hangs around with Jay-Z. If that's not cool, what is?
The bet-takers own website explains that Obama's odds of victory fell to a low of 2-9, with 75 percent of the action coming in for the incumbent Obama. CSM explains that given the odds, bettors were only taking in 20 cents for every euro wagered, plus the original stake, meaning Paddy Power wasn't paying out a longshot. On the flip side, unpaid Romney bets held odds of 7-2.
Paddy Power's statement went on to say, "Romney gave it a good shot and is doing well in the popular vote, but we suspect he's had his moment in the sun and is likely to be remembered more for his legendary gaffes than presidential potential."
This isn't the first controversial stake by Paddy Power involving President Obama, either. CSM reports the betting firm took action on which pub the president would sip a Guinness during his visit to the Emerald Isle in May 2011. And according to the Irish Independent, Paddy Power offered 12-1 odds the President would not finish his first term in office. The betting house later confirmed it would pay out if Obama were killed by a sniper.
The Independent reports that although Paddy Power's election call seemed a bit hasty, the bets paid out in advance were a small price to pay for the publicity generated for the biggest betting shop in Europe.
Salon notes that Paddy Power has already offered odds on the 2016 election, too, with Romney as the front-runner at 9-2, though the site says the former Massachusetts' governor's odds would likely plummet with a Tuesday loss. Vice Presidential candidate Paul Ryan comes in next at 7-1, while U.S. Secretary of State Hillary Clinton sits at 8-1 odds. Donald Trump rounds out the board at 100-1.