A New Jersey business owner is refusing to remove anti-Obama images from his storefront that depict the president as a witch doctor, the Asbury Park Press reports.
Bill Skuby, the owner of Skuby & Co. Lifestyle Clothing in Spring Lake, told reporters the window display is his way of protesting Obamacare, and it's staying put even as locals call it racist.
"If you think that's racist, what about all the stuff that he's done," Skuby said to MyFox New York Tuesday. "I put that in because the witch doctor to me represents Obamacare, and I think it's witchcraft."
The photo in Skuby's storefront shows Obama's face superimposed on a witch doctor's body. Below it, the word "Obamacare" is spelled with a Soviet hammer and sickle symbol in the place of the "C."
Since the display went up last Thursday, it has sparked outrage among locals. "Lots of children here go downtown to display their costumes [on Halloween]," a Spring Lake resident told the Livingston Daily. "That means all of the local children are going downtown and seeing their president displayed that way. That's really shameful."
"I don't think it's the right thing to do," a nearby business owner, who is a registered Democrat, said in an interview with the paper. "But he has the right to do it."
Unfortunately, racist attacks on Obama are all too common. Critics have called the president's family history and citizenship into question throughout his time in office. The attacks have continued leading up to November's election. Speaking at a rally in August, Republican presidential candidate Mitt Romney quipped that "no one's ever asked to see my birth certificate."
Other politically-controversial pieces of art have appeared on small businesses during the presidential race. In Tampa this past summer, when the Republican National Convention was in town, city workers ripped down anti-Romney signs outside a small cafe that were posted by the cafe's owners.
Substantively speaking, the majority of small business owners oppose Obamacare, reports have shown. Two-thirds of people who own 50 to 100-person companies said in a survey by Delloite that the new health care law is a "step in the wrong direction."
Part of why some business owners disapprove of the new law may be because it won't only affect how they pay employees, but also their own health coverage -- or lack thereof. According to data released last month by the Kaiser Family Foundation, one in four small business owners don't have health insurance and will face fines next year if they don't purchase coverage.
Other reports show small business owners are evenly split on whether they support Obamacare. A poll that surveyed 800 small business owners in June, conducted by Small Business Majority, found that half of respondents were supportive of the new law.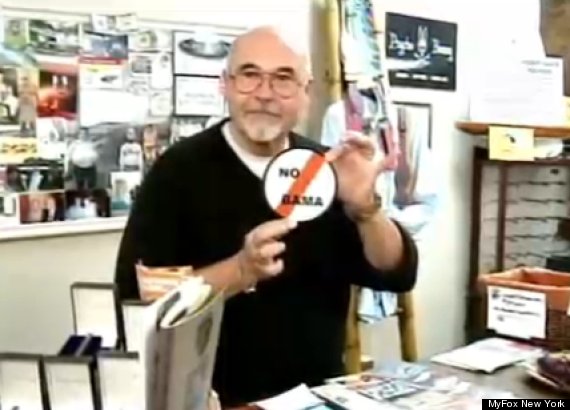 Calling all HuffPost superfans!
Sign up for membership to become a founding member and help shape HuffPost's next chapter
BEFORE YOU GO