Sam Brownback echoed a lot of what you can read on the Web about the Saddleback faith forum performance of candidates Obama and McCain Saturday. Brownback writes that, with his confident appearance, McCain has won the evangelical vote. I disagree strongly with this assessment. I am an evangelical Christian, and I think Obama did very well during the Saddleback Forum and that he was much more genuine and thoughtful in his responses than was John McCain.
McCain was very curt in his replies to questions of faith, which showed me that he lacked depth and judgment to lead America in general and especially people of faith in America. He said that we must destroy evil, which, as we all know, is not possible in this world per the Bible. I mean in Eph 6:10-13, it says, "Finally, be strong in the Lord and in his mighty power. Put on the full armor of God so that you can take your stand against the devil's schemes. For our struggle is not against flesh and blood, but against the rulers, against the authorities, against the powers of this dark world and against the spiritual forces of evil in the heavenly realms. Therefore put on the full armor of God, so that when the day of evil comes, you may be able to stand your ground, and after you have done everything, to stand."
So, we cannot eradicate evil in this world (that is what heaven will be, a world without evil...a world communing with God...a perfect world without sin), and, as such, I am very confused by John McCain's answer to the question of whether or not evil exists and what we must do about it (McCain said that we need to "destroy" it). Obama's response was much more in line with the Bible (we must "combat" it, he said). Ultimately, God is in control, and all we can do on this earth is fight (read: combat) evil (God does the real work and makes us win all battles).
Moreover, when McCain said that his greatest moral failure was the break-up of his first marriage, he left out why that was his greatest moral failure -- read: sin (the reason, of course, was his extra-marital affair with Cindy, his current wife). On the other hand, Obama squarely addressed his youthful sins and explained what those sins taught him about his character (i.e. what he learned -- that he needed to be outward focused rather than selfish). This is the type of repentance in my mind that the Bible teaches us as Christians to do.
So, basically, I am shocked by the coverage and pundits responses to the faith forum. I think Obama showed that he is truly a person of faith. McCain, on the other hand, appeared superficial and a person of weak Christian faith.
Moreover, about Supreme Court Justices, I do think that is an important issue, but overturning Roe v. Wade is not going to help lower the pregnancy rate and will likely only marginally help decrease the abortion rate and simultaneously will likely put endanger many womens' lives. So, while I am very opposed to abortion on a personal level (except under extreme cases like rape and incest), I think that abortion should remain legal. Otherwise, many women will die; it is even possible that as many women will die as babies would not be aborted. Moreover, if Roe v. Wade were repealed, America would need to increase its jails for women who tried to have abortions (and this seems like a poor use of our tax dollars and a travesty to many womens' lives). In my opinion, as Christians, we need to try to decrease abortions in particular and unwanted pregnancy in general through our personal evangelism and outreach to people that are struggling spiritually by showing them the word of God and God's love for each and every one of us.
Unfortunately, you cannot legislate morality and since you cannot, abortion is not something that the federal or state government can legislate. Reducing the number of abortions is primarily the role of citizens at large and the community in general and, only ancillary, the role of government through making more reasonable options available (e.g. US adoption process more streamlined, providing women with a better safety net if they have kids out of wedlock -- like daycare).
As for gay marriage, same sex couples should have the same rights to see their significant other in the hospital, etc, but their union should not be called marriage. Marriage is defined in the Bible as a union between 1 man and 1 woman (and that is why the man will leave his parents to be united to his wife and they will become 1 flesh).
Lastly, it is important to point out that abortion and gay marriage are just 2 issues, which the Republican Party (of which I have been a member my whole life up until this election) has used tirelessly with social conservatives and evangelicals as wedge issues. Other important issues for Christians are how we care for those less fortunate, how we care for the elderly and the sick, how we care for our environment (which God has graciously given to us), and how we work to create a more peaceful society -- i.e. less war like the one that McCain favors in Iraq. I think Barack Obama's viewpoints are similar to mine while John McCain's viewpoints are not.
I am a younger voter (in my mid-30s), and I think many of the young evangelicals feel as I do. Many of us are not part of the religious right (even though we have voted with the religious right for Republicans in all elections we were eligible for in our lifetime) but are strong people of faith, and we are discouraged by the lies that politicians have said over and over to try to get our vote. George W Bush has destroyed the Republican Party, and while he said that he was a Christian, he is obviously the furthest thing from a true Christian (he is more like a Pharisee or Sadducee). I fear that John McCain is the same thing (a wolf in sheep's clothing who claims to be a Christian, when he is really not a Christian).
So, I believe with my whole heart that the evangelical vote will be a critical swing vote this election cycle, and I think Obama will win a large percentage of it. McCain will win the religious right hands-down (e.g. the Dobson's and the Perkins' of the world). Obama will likely split the remaining (which is a large majority I believe) of the remaining "values voters" / evangelicals. Moreover, since we evangelicals have consistently voted Republican, every vote that Obama gets from that column comes at the expense of McCain. In my opinion, this will be a significant reason that Obama will have a commanding victory over McCain in November in not just blue and purple states but even some red states. I predict that this will be a generational election. Those states with an average age under 40 or 50 will likely go blue while those states with a large retired population will likely go red.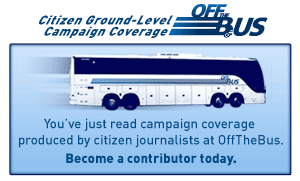 Calling all HuffPost superfans!
Sign up for membership to become a founding member and help shape HuffPost's next chapter