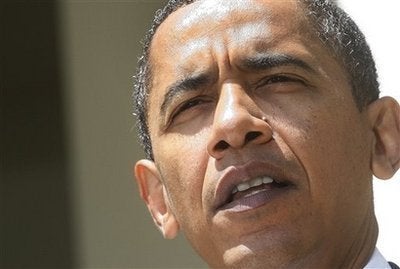 The Obama White House would not commit on Friday to opposing a health care reform proposal that did not include one of the president's favored components: a public option for insurance coverage.
"I don't think at this point we would draw quite that strong a red line," said Press Secretary Robert Gibbs. "But again, I think the president believes both in the campaign and the letter he sent sometime last week... denoted that he thought it was extremely important to have increased choice and better competition. He thinks that could be, no pun attended, a healthy part of the plan."
The remarks from Gibbs come at a time when a growing number of conservative figures have insisted that they would absolutely oppose legislation that included a public or government-run entity for health insurance coverage. Conversely, progressive activists are starting to express concern that the president would be more invested in getting major legislation passed than taking a principled stand on health care reform. Earlier in the briefing, veteran White House reporter Helen Thomas asked Gibbs whether the president would be willing to bend on a public option.
Noting that Obama had vigorously expressed his support for the plan several times during a town hall in Green Bay, Wisconsin the day before, Gibbs added, "This is not about getting any piece of legislation through. Obviously this has to make a difference, this has to cut costs for families and small business ... This is about just getting something through."
Gibbs largely deflected questions on another, somewhat contentious aspect of the health care debate: what kind of mandate would be added to require people to purchase insurance coverage.
"I'm going to wait and see what Congress does," said Gibbs, when reminded that during the campaign the president had opposed Hillary Clinton's proposal for a mandate on individuals. At the time, Obama argued that it would put a financial burden on lower-income families.
Calling all HuffPost superfans!
Sign up for membership to become a founding member and help shape HuffPost's next chapter