Every time a president is about to leave office, media outlets publish "before and after" photos to show just how much being the leader of the free world can age a person.
Barack Obama
is no exception. See
here
and
here
.
While the office may have indeed added some years, it
has
been eight years; who among us doesn't look a bit older than we did eight years ago? While certainly much grayer, Obama says he has no plans to start covering it up.
He told a group of students last week
at Taylor's University in Kuala Lumpur, "When I came into office [in January 2009], I had no gray hair and now I have a lot . . . I don't dye my hair and a lot of my fellow leaders do. I won't say who. But their barbers know, their hairdressers."
He did make a request of the students though: "The first thing I want from young people is to stop calling me old. Come on, you hurt my feelings," he joked.
And as for those "fellow leaders" who Obama won't name, it was widely speculated that former President Ronald Reagan dyed his jet-black hair. Former President Bill Clinton entered office with a salt-and-pepper mane and exited as an all-silver fox.
Readers, do you think Obama has aged much in office?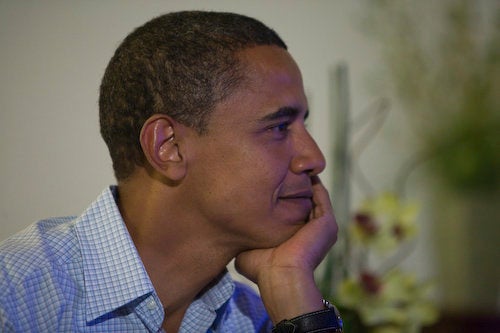 Calling all HuffPost superfans!
Sign up for membership to become a founding member and help shape HuffPost's next chapter