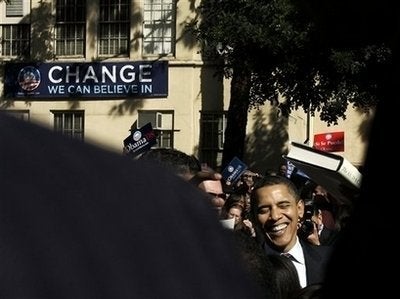 Los Angeles, California -- Just hours before a dramatic one-on-one televised debate with rival Hillary Clinton, Sen. Barack Obama led his campaign into Southern California aiming to woo and galvanize the crucial Latino vote.
Assembling a racially diverse, Latino-heavy collection of local elected officials at his side, Obama appeared at a campaign town hall meeting at the inner city Los Angeles Trade Technical College and the first words out of his mouth were the legendary farm workers slogan: "Si se puede, si se puede - yes we can!"
With the California primary and elections in more than 20 other states scheduled for next Tuesday, Obama's ability to peel a significant number of Latino votes away from Sen. Hillary Clinton is considered fundamental to his chances for victory.
"If everyone here made the pledge to take a full day to work the phones and walk door to door, we will win California," Obama national co-chair Maria Elena Durazo told the high energy crowd. Durazo leads the 800,000 member Los Angeles County Federation of Labor, one of the most powerful vehicles in mobilizing California's Latino vote.
Durazo was joined on stage by other prominent California Latino leaders including State Senators Gloria Romero and Gil Cedillo, as well as by U.S. Congressman Xavier Becerra, who represents heavily Hispanic East Los Angeles.
Introducing Obama, Rep. Becerra said, "I want you to give it up as if it were forty years ago and as if it was Bobby Kennedy," he said to wild cheers. "The spirit of Bobby Kennedy is here today!"
An upbeat Obama tailored his usual stump speech to appeal to racial unity and to speak directly to a host of domestic issues with high impact on African-Americans and Latinos. He spoke of his experience as a young community organizer aiding families thrown out of work by the shutdown of local steel mills. "Everybody was in the same union, everybody was working together, working together for their children and their families."
Obama focused on bread and butter domestic issues of education, housing and health care. "When I'm President of the United States of America, your health is not going to depend on the color of your skin."
He paid special attention to immigration policy, a hot-button priority in the Latino community, saying he opposed the "politics of fear" which demonizes and scapegoats those coming to America. "We have to stop letting those in power turn us against each other," Obama said. "And nowhere am I more tired of this than on immigration." He reiterated his support for comprehensive reform of the sort proposed in the Kennedy-McCain bill, and said when elected he would sign the Dream Act, recently rejected by Congress.
The Illinois Senator studiously avoided any direct reference to opponent Hillary Clinton with whom he has been locked in an often bitter and personal battle for the Democratic nomination. He limited himself to saying that the coming election was a "stark choice" between "the past and the future."
Recent polls show Obama rapidly narrowing a once double-digit gap behind Hillary Clinton in the race to win delegate-rich California. Some surveys show him only a few points behind, but he continues to seriously lag among Latinos where Clinton has as much as 25 point advantage. Her 2 to 1 advantage among Latinos allowed Clinton to beat Obama in Nevada two weeks ago by a 51 percent to 45 percent edge.
Sen. Ted Kennedy, who endorsed Obama earlier this week, will be appearing on his behalf Saturday morning at a rally at East Los Angeles Community College, the virtual epicenter of Latino Los Angeles.
"Obama needs a few more concentrated days than he currently has to lock up California," says a long-time California Democratic Party consultant. "I'm not sure why he's not spending more time here before February 5th."
Indeed, after tonight's televised debate with Hillary Clinton from the Kodak Theater in Hollywood, he's scheduled to campaign in the Bay Area tomorrow and then fly on to Albuquerque, Boise, Minneapolis, Boston and Chicago where he will spend the final day leading into the Feb 5 cascade of primaries.
Calling all HuffPost superfans!
Sign up for membership to become a founding member and help shape HuffPost's next chapter