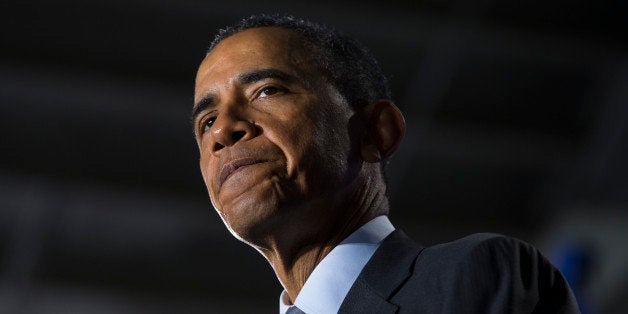 WASHINGTON -- In trying to win support for a controversial new trade pact in Asia, President Barack Obama has been offering one major reason why the deal is so important: to curb the economic power of China.
"As we speak, China wants to write the rules for the world's fastest-growing region," Obama said during his State of the Union address last month. "That would put our workers and our businesses at a disadvantage. Why would we let that happen? We should write those rules. We should level the playing field."
The theme resonates with American workers, who have seen factories close and wages stagnate at home in the years since China joined the World Trade Organization and became a manufacturing powerhouse. But the credibility of Obama's pitch hinges on a difficult and unlikely diplomatic effort: reforming the economic and political structures of several smaller Asian nations -- in particular, Vietnam.
Of the 11 nations negotiating with the U.S. over the proposed Trans-Pacific Partnership, none has a closer relationship with China than Vietnam. Like China, which is not participating in the talks, Vietnam has a one-party communist government with a long record of human rights abuses. It has also some of the world's weakest labor standards.
As a consequence, Vietnam has become as an increasingly popular offshoring destination for businesses headquartered in China. Chinese companies regularly contract with factories in Vietnam, which in turn are overwhelmingly dependent on raw materials from China. One of Vietnam's biggest industries -- garments and textiles -- imports about half of its yarns and fabrics from its neighbor to the north.
That means that higher labor standards in Vietnam would create higher costs for Chinese middlemen. And if TPP forces Vietnam and other Asian countries to improve workers' rights, that could put political pressure for reforms on the Chinese government.
On the other hand, a weak deal with Vietnam would not rein in China's economic might; it could further empower the larger nation.
The Obama administration recognizes the size of the challenge.
"There are no labor rights in Vietnam," U.S. Labor Secretary Thomas Perez told HuffPost. "If the bar is Vietnam has to become the United States in the next five years, I don't expect that to happen. If the bar is to go from no labor rights to a scheme akin to the American and European schemes of labor protections, I think that is an unrealistic expectation."
It is a delicate maneuver for American negotiators to press the Vietnamese government on human rights violations, given the two countries' recently shared history. And Vietnam has been fighting against requirements for stronger labor rights throughout the TPP talks.
Le Dang Doanh, a senior economic adviser for the general secretary of Vietnam's Communist Party, told the U.S.-funded Voice of America last fall that TPP's requirements are "extremely difficult."
For TPP to make any difference on the labor front, it would have to enshrine workers' right to organize and form unions. Vietnam has only one officially sanctioned union, which critics say is often more closely allied with employers than workers.
"Vietnam has shown no signs of compromising on this," Doanh told Voice of America, referring to legalizing unions. "Vietnam has never wanted to make changes regarding this issue."
The Obama administration does not make public the language of proposed TPP provisions, and the deal is still being negotiated. But even if strong pro-labor terms could be secured in an agreement, actually enforcing them would be a greater hurdle.
The U.S. has a poor record on enforcing human rights and labor terms under trade agreements. A 2009 Government Accountability Office report found that American enforcement of labor terms was "ad hoc and very limited" with "minimal oversight." Another GAO report from November 2014 found that the situation hadn't improved much. While the Labor Department has brought a handful of workers' rights cases under prior trade agreements, they have taken years to investigate and remain unresolved.
"One of the critiques we've heard, especially from our friends in the Democratic Party and I agree with it, is that we need to move faster," Perez told HuffPost. "I think that's a very fair critique, and it shouldn't take six years. These claims are complex, there's no doubt about it, but justice delayed is all too frequently justice denied."
Obama's latest call for a high-standards agreement essentially repeats a longstanding defense of U.S. pacts with rogue nations. In 2009, Rep. Paul Ryan (R-Wis.), now chairman of the House Ways and Means Committee, defended a free trade agreement with human rights abuser Bahrain, emphasizing that the deal would "require things like the rule of law and forcible contracts, women's rights, advancements towards openness, transparency and democracy."
Two years after Ryan's comments, Bahrain's government implemented a brutal crackdown on Arab Spring protesters, with reports indicating that the regime fired and prosecuted union members, tortured doctors and imprisoned an opposition leader for "inciting" protests on Twitter.
The Bahrain deal did, in fact, bar this kind of repression. But after receiving an official trade violation complaint from the AFL-CIO, the Obama administration took more than two years to initiate formal talks with the government of Bahrain. Almost four years after the initial crackdown the case remains open and unresolved, as Bahrain continues to prosecute human rights activists. The Office of the U.S. Trade Representative said last year that Bahrain's government had made "substantial progress on the issue of dismissals of trade union leaders during the civil unrest."
The same enforcement issues would surely arise under TPP.
"We are dealing with countries that are challenging in TPP," Sen. Ben Cardin (D-Md.) said in a January hearing. "Brunei, where the LGBT community has legitimate human rights concerns. In Brunei and Malaysia and Vietnam, their record on labor is very suspect. And on anti-corruption, they could pass laws, but they don't have the institutions -- the independent prosecutors and courts -- to give us confidence that they would enforce those laws."
Perez said the Obama administration is taking a harder line in talks this time around than the U.S. has in prior trade agreements. The final deal, according to Perez, will deny countries the economic benefits of the trade pact until labor and environmental issues are addressed. That would be a significant change from past deals.
"If you want to compare the record of the Obama administration on enforcement with the record of the Bush administration, I welcome that comparison," Perez said. "They didn't do anything."
But many human rights activists remain skeptical, including John Sifton, Asia advocacy director for Human Rights Watch. "The country is going to open itself to free expression? It's going to allow itself to have freedom of association, unions, trade unions, really? That's huge. That's not just, 'Oh' -- that's like the revolution almost," said Sifton.
Enforcement against overseas trade violations has improved since Obama took office. But as the GAO reports indicate, that enforcement has been concentrated on disputes in which an American manufacturer raised a complaint. One key sector of the U.S. economy has incentive to turn a blind eye to labor improprieties in Vietnam and other TPP nations.
Eager for more cheap overseas apparel, many American retailers have supported granting Vietnam expanded trade benefits. Although what remains of the U.S. textile industry has raised concerns, that sector has already been decimated and wields limited influence over executive branch politics. As for Vietnam, the garment industry is the source of its most economically significant U.S. exports, second only to China in the sale of clothing to America, according to a 2014 Congressional Research Service report.
Elizabeth Cline, author of Overdressed: The Shockingly High Cost of Cheap Fashion, sounds a warning about any hopes for trade deal impact. "In order to see real enforcement of labor standards, penalties for breaking the new laws cannot just fall on the producers and factories in developing Asian nations, but mainly on the Western retailers and corporations importing these goods," she said.
From a human rights perspective, the garment industry in Vietnam is particularly troubling. According to a 2014 Labor Department report, the sector relies on both child labor and forced labor, while a 2014 State Department report documented labor trafficking in the garment sector.
"Some Vietnamese children are victims of forced and bonded labor in factories run in urban family houses, particularly in the informal garment sector near Ho Chi Minh City, and in privately-run rural gold mines and brick factories," the State Department report reads. "The most commonly reported tactic is for young men to lure young women and girls into online dating relationships; after gaining the victims' trust, they persuade them to move to a new location where they are subsequently subjected to forced labor or sex trafficking."
"There is no known record of a Vietnamese labor trafficking victim successfully achieving compensation in court," the report notes.
Tuong Vu, a Vietnam expert in the University of Oregon's political science department, said of the Vietnamese government, "They issue laws and regulations that sound very nice, but then they do not enforce them."
Bringing Vietnam into the TPP deal, Obama argues, would at least be better than the status quo.
"I don't know how it's good for labor for us to tank a deal that would require Vietnam to improve its laws around labor organization and safety," the president said in December before the Business Roundtable, a lobby group that represents corporate CEOs. "I mean, we're not punishing them somehow by leaving them out of something like this. Let's bring them in."
A marginal improvement, of course, is a far cry from Obama's call to alter the economic power dynamic between the U.S. and China.
While China's holding of roughly 8 percent of the U.S. national debt is often noted to highlight the country's growing clout, its real power is over supply chains. Many essential goods sold in America are now either made in China or dependent on Chinese outsourcing companies, which in turn get their products from other countries -- like Vietnam.
"The fact is, this is not going to achieve the strategic goals that the administration says are so important," said Barry Lynn, director of the Markets, Enterprise and Resiliency Initiative at the New America Foundation. "Increasingly, it's Chinese companies that are determining where things go. And the idea that tinkering around with these numbers is going to have dramatic effects is naive."
Before You Go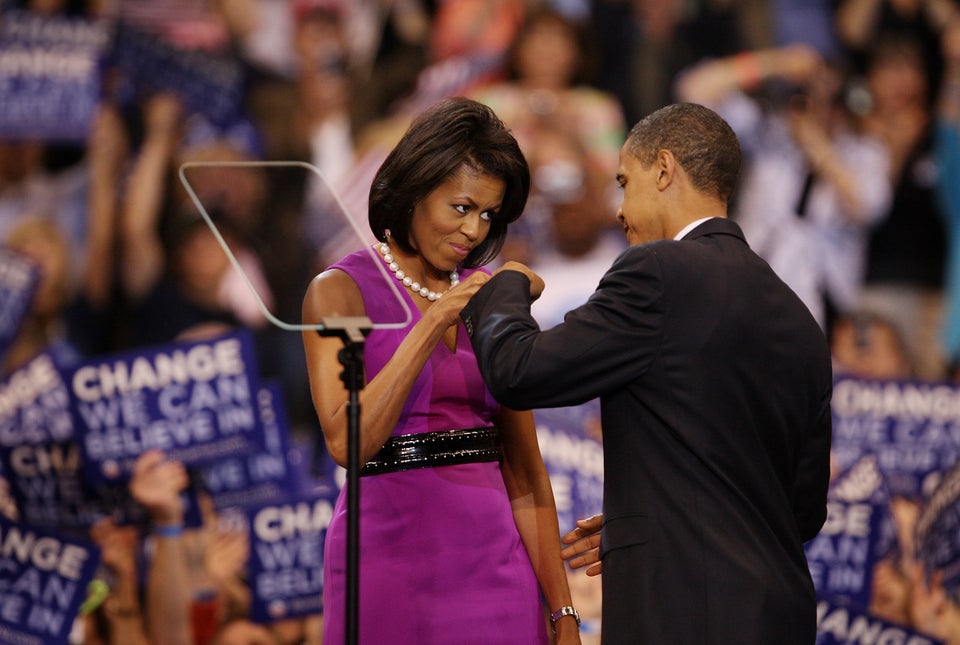 Obama's Fist Bumps
Popular in the Community