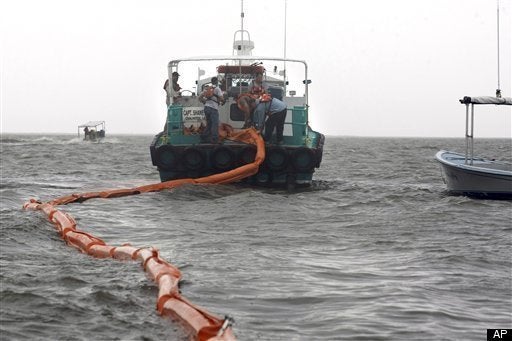 The president and his team are currently in the process of working with members of Congress to "significantly" raise the amount of money that oil companies like BP would have to pay in economic damages in the event of a spill.
White House Press Secretary Robert Gibbs told reporters on Wednesday that the Office of Management and Budget was working with members to lift the $75 million cap that currently exists on the amount oil companies pay for non-cleanup and containment costs.
Gibbs did not put out a number for where the president would like the new cap to be, saying merely: "We would be in favor of significantly lifting that cap, a cap put in place in the Oil Pollution Act of 1990, so at least 20 years old."
Earlier this week, Sen. Robert Menendez (D-NJ) introduced legislation that would raise the cap to $10 billion. An opponent of offshore drilling, the New Jersey Democrat said that the $1.6 billion that oil companies pay into a trust fund for cleanup and containment costs was "little consolation to the small businesses, fisheries and local governments that will be left to clean up the economic devastation that somebody else caused."
On Wednesday, House Democrats followed suit, with Rep. Rush Holt (NJ) introducing the same bill as Menendez. The effort was co-sponsored by Reps. Suzanne Kosmas (FL), Allen Boyd (FL), Paul Hodes (NH), Kendrick Meek (FL), Artur Davis (AL), Frank Pallone (NJ) and Jay Inslee (WA).
Gibbs neither endorsed nor opposed these bills. But he stressed that BP is "going to get a bill for the recovery of cleanup and the damages caused" by the current spill in the Gulf

Calling all HuffPost superfans!
Sign up for membership to become a founding member and help shape HuffPost's next chapter