(Recasts with North Korea, cyber talks)
By Matt Spetalnick, Steve Holland and John Ruwitch
RANCHO MIRAGE, Calif., June 8 (Reuters) - U.S. President Barack Obama and Chinese President Xi Jinping agreed on Saturday that North Korea must give up its nuclear weapons, during a two-day summit where Obama directly aired U.S. concerns about Chinese cyber theft to his counterpart.
Obama and Xi had wide-ranging talks, including a 50-minute chat outdoors, to conclude a get-to-know-you visit that included an extensive discussion of how to rein in North Korea, whose belligerent rhetoric in recent months has rattled the Asia-Pacific as well as the United States.
"They agreed that North Korea has to denuclearize, that neither country will accept North Korea as a nuclear-armed state and that we would work together to deepen cooperation and dialogue to achieve denuclearization," White House national security adviser Tom Donilon told reporters.
Chinese State Councillor Yang Jiechi told a separate news conference that Xi had told Obama that China and the United States were "the same in their positions and objectives" on the North Korean nuclear issue. China is Pyongyang's ally but has become increasingly concerned at North Korean threats of war against South Korea.
In talks that may set the stage for U.S.-Chinese relations for years to come, the pair spent about eight hours together over Friday and Saturday at a sprawling retreat in the sun-baked desert near Palm Springs, California.
Their visit included a one-on-one session during a walk outside in the desert heat, an effort to inject some warmth into often chilly relations.
Donilon said Obama raised directly with Xi the U.S. allegations that Chinese cyber attacks have been aimed at stealing U.S. industrial secrets.
Obama described to Xi the exact kinds of problems the United States was concerned about regarding cyber thievery and said that if they were not addressed, it would become a "very difficult problem in the economic relationship," said Donilon.
Yang, briefing Chinese reporters, said Beijing wanted cooperation rather than friction with the United States over cybersecurity.
"Cybersecurity should not become the root cause of mutual suspicion and friction, rather it should be a new bright spot in our cooperation," Yang said. (Editing by Alistair Bell and Peter Cooney)

Before You Go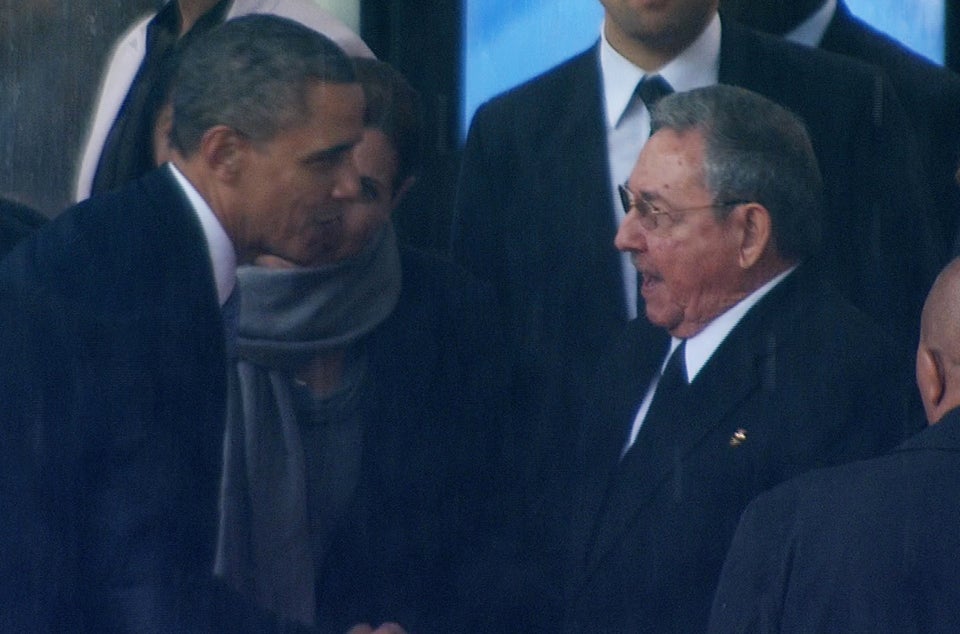 Obama's Handshakes Around The World
Popular in the Community