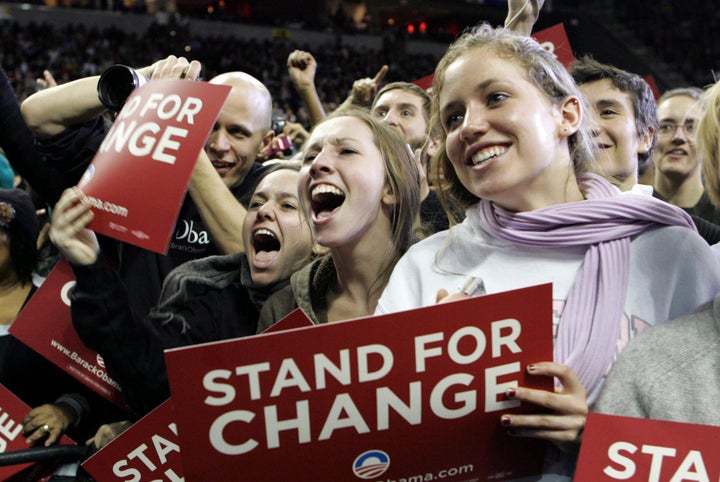 NEW YORK -- At 17, Rachel Marshall spent most of the 2004 presidential election sulking because she wasn't yet old enough to vote.
Four years later, Marshall more than made up for lost time by co-founding the local chapter of Ball State University's Students for Barack Obama.
Early on in Obama's bid for the White House, Marshall, now 24, was drawn not only to Obama's charisma and idealism, but to his authentic ability to connect with young voters.
"You could tell he genuinely cared about our generation and was really focused on the future of this country and what kind of legacy he would make sure to leave for us," says Marshall, who grew up in West Chester, Ohio, where House Speaker John Boehner resides. She is the lone Democrat in a family of Republicans.
After graduating from college during the peak of the recession, Marshall moved back home, unable to find a job. Two years later, she still lives in her mother's basement.
"I think Obama cracked the code in 2008 in terms of how to engage young people -- he spoke in an inspiring way, he used technology to his benefit, he disproved conventional wisdom," says Matthew Segal, the 25-year-old founder of Our Time, a national membership organization for young Americans under 30.
"This time around, he's running as an incumbent who's confronting many stark realities in terms of what's possible," says Segal, who advises that pragmatism might be substituted for hope and change. To win over young voters, Segal says Obama would do well to work harder at bolstering the number of jobs available for 20-somethings.
In November of 2008, about 15 million first-time voters participated in the election. Of these, more than half were between the ages of 18 and 24. And according to a Pew report on the millennial generation, voters between the ages of 18 to 29 supported Obama by a ratio of more than two to one.
Provided they show up to vote, voters under 30 will likely be a prime constituency to watch during next year's election. By 2012, according to U.S. Census data, 61 percent of millennials will have reached voting age -- meaning that one out of every four potential voters, or 24 percent of the electorate, will have been born after 1980.
"Obama's challenge for 2012 is not one of persuasion. Obama's challenge is to see how close he can come to the level of energy and enthusiasm that millennials showed him in 2008 -- specifically, in getting them out to vote," says Morley Winograd, the coauthor with Michael D. Hais of the forthcoming book, "Millennial Momentum: How A New Generation Is Remaking America."
Winograd and Hais report that millennials tend to support Democrats more than two-thirds of the time. And while such tendencies are often seen as a passing phase, both men predict the left-leaning orientation is likely to continue through the young generation's lifespan.
Since last week's killing of Osama bin Laden, Obama's approval ratings have surged. Both Winograd and Hais predict that bin Laden's death will have a powerful impact on young voters in particular. "It's a redemption of the promise to millennials that he could be a hero and slay the generation's villain," says Winograd.
But even heroism is a hard sell in a harsh economic climate. And 20-somethings have been especially hard-hit by widespread underutilization.
The Harvard Institute of Politics poll reported that jobs and the economy remain an overwhelming worry for those under 30.
Biko Baker, the 32-year-old executive director of the League of Young Voters Education, which works with low-income and non-college youth, says it's of particular concern for young people of color. According to the U.S. Bureau of Labor Statistics, as many as half of black Americans under 24 are out of work. Baker predicts that jobs, or a lack of jobs, will be a huge issue for the communities he serves.
Matt Singer, the 28-year-old executive director of The Bus Federation, which works to mobilize young voters, attested to a general lack of optimism among the 20-somethings he encounters. "Young people are bummed out right now. The economy is tough. Unemployment is high, but for young people it's even higher."
For Kristen Soltis, a 27-year-old director of policy research at the Winston Group, a conservative polling firm based in Washington, D.C., also sees Obama's challenge with young people as boiling down to jobs, jobs and more jobs. "As long as their peers are having a tough time finding work or are up to their eyeballs in debt and not sure a college degree is really worth the investment, Obama is going to have a tough time of it," she said.
The president's reception may be especially chilly during the ongoing commencement season, as he speaks before large numbers of young graduates entering a weak job market. Soltis said she sees such speeches by Obama and other candidates -- she cited former Utah Gov. Jon Huntsman's weekend address at the University of South Carolina -- as early trial runs of upcoming campaign rhetoric.
College students and recent graduates comprise a new coalition of young people who in many cases weren't yet old enough to vote four years ago. "Obama's going to have to find ways to see if he can rework his magic with this new generation," says Soltis. "And his challenge is, how do you run as the change candidate if you're the incumbent?"
"We wanted to bring back the commitment we made on the campaign trail that every young person should have an opportunity to speak openly and directly with a member of the administration," says Kalpen Modi, the associate director of the Office of Public Engagement who oversees the youth roundtables.
Since the initiative launched in February, more than 297 roundtables have been registered. So far, 180 roundtables, mostly comprised of small groups, have convened and the administration has participated in 56 of them. The roundtables have covered issues including climate change and the cost of education as well as jobs and the economy.
Two weeks ago, Sam Vaghar, 24, participated in one such roundtable. The roundtable brought back memories of 2008. "Any campus you were on or any young person you talked to, there was this energy, this enthusiasm for our future," says Vaghar. "We've sort of lost some of that."
Vaghar co-founded the Millennium Campus Network, which works to combat global poverty. He called the roundtables a smart move by the administration to make young people feel like "we aren't being talked at, but listened to."
Back in West Chester, Ohio, Rachel Marshall seems eager for someone to listen.
Marshall worked in a coffee shop for nearly a year before landing a job at a local law firm, where she currently works as an administrative assistant. The job pays $11 an hour and doesn't require a college degree.
Between repaying $30,000 in school loans, not to mention making her monthly car and cellphone payments, Marshall plans on to continuing to live rent-free in her mother's basement until she can scrape together enough money to afford her own place.
Marshall said she understands that political change can be slow to happen. And despite her frustration, she plans on supporting Obama's reelection next fall.
But among her peers, Marshall predicts his candidacy will likely be a tougher sell this time around.
"It's looking bleak for my friends that just graduated and still don't have a job. It's also not looking so great for those of us that have been out for awhile and still don't have the jobs we thought we'd have," she says. "If Obama wants to have young people out there working hard to reelect him and get that enthusiasm back, he needs to have a plan to help improve our situation. We all need jobs."
Popular in the Community