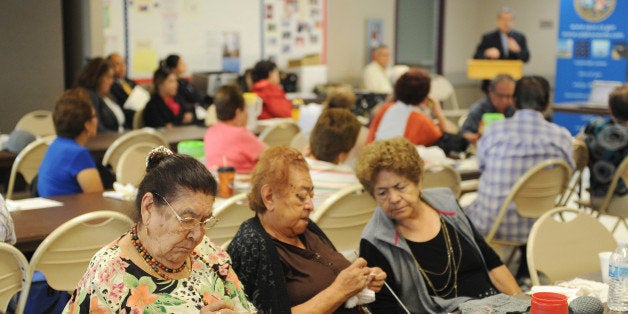 More than 59,000 people enrolled for health insurance in Covered California from Oct. 1 through Tuesday in a pace that in the first month outnumbered enrollment in 36 other states combined.
But only 4,852 of the people who enrolled in October come from the lower- and middle-income populations eligible for tax premium subsidies, according to numbers released by Covered California and the California Department of Health Care Services on Wednesday. Leaders of the new state exchange, part of President Barack Obama's signature health reform, expect 500,000 to 700,000 people who qualify for the subsidies to enroll by the end of March.
Enrollment in the exchange began on Oct. 1. Coverage begins on Jan. 1.
Covered California Executive Director Peter V. Lee downplayed the low number of enrollees qualified for income assistance. He said the first month was largely about people who are uninsured because of pre-existing conditions. And while age and regional breakdowns of the enrollees weren't available, Lee said a higher proportion of people were older.
"Those are individuals who were waiting a lifetime for insurance," he said of the 25,978 people who enrolled in October and don't qualify for subsidies. He predicted trends would change and the exchange would make its enrollment targets by April 1.
In October alone, 30,830 people enrolled in Covered California, Lee said. In the 36 states that rely on a federally-run exchange and troubled website healthcare.gov, about 27,000 people enrolled from Oct. 1 to Nov. 2.
In California, another 29,000 people enrolled in the first twelve days of November, Lee said. And 72,007 low-income people starting the insurance application process were deemed likely eligible for a Medi-Cal program that is also expanding through federal reform. Their government-paid coverage starts Jan. 1, too.
"If you actually think about the number of people in a plan, we're talking about over 130,000 Californians," said Lee, praising overall enrollment as better than encouraging.
"This is a very proud day for Covered California, for California and, we actually think, for the entire nation," he said in a news conference.
Applications for about 370,000 Californians were started in October. Many have not been completed. Dr. Gerald Kominski, director for the UCLA Center for Health Policy Research, suggested people may be waiting to make sure their hospitals and doctors are covered by their plans.
He said the low number of people enrolling who are eligible for subsidies seems to reflect people aren't fully aware of the program.
"There are a lot of people who qualify for subsidies who aren't getting the message yet apparently," he said.
Rigoberto Vargas, director of the Ventura County Public Health Department, noted the subsidies may be one of the biggest attractions of the new exchange because they make coverage less expensive.
"I'm really surprised," he said of a trend in which enrollees without subsidies outreached people who qualify for the tax credits by more than five to one. The public health department is helping lead outreach efforts regarding Covered California.
Lee said early enrollment was influenced by the masses of older people with pre-existing conditions who desperately need coverage. Other observers noted people may be acting like car buyers who want a chance to kick the tires before making a decision.
People in and around Ventura County offer the same mixed reviews that have tattooed health reform since before it became law.
Many talk about canceled policies that contradict the president's old promises about keeping existing policies. They cite rising premiums they say conflict the name of the Affordable Care Act.
"It's all been lies," said Scott Slinger, co-owner of an ice-skating rink in Simi Valley.
Vince Behrens, of Oxnard, sat down with an insurance agent and went through the Covered California enrollment process on Tuesday. The owner of American Drive-In Cleaners dropped his catastrophic coverage several years ago because of a recession he called a meltdown.
In the new exchange, he expects to pay $454 a month to cover himself, his wife and their two sons.
"I'm thrilled as hell," he said. "I'm 55 years old. I'm over the hill. Who's going to insure anyone like me?"
To find out which doctors or hospitals are included in health plan networks offered through Covered California, go to http://www.coveredca.com and click "Start Here." Then click "Preview Plans," fill out the form and click "See My Results." On the page titled "My Options," scroll down to "Available Programs." Then hit "Preview Plans." Scroll to the bottom of the graphic and find the gray bar. Click on "Find your doctor or hospital." Follow the prompts.
(c)2013 Ventura County Star (Camarillo, Calif.)
Distributed by MCT Information Services
Calling all HuffPost superfans!
Sign up for membership to become a founding member and help shape HuffPost's next chapter
BEFORE YOU GO
PHOTO GALLERY
Lies And Distortions Of The Health Care Debate