 WASHINGTON -- Remember Obamacare, the president's grandest achievement and the Tea Party's worst nightmare? Voters in swing states are seeing megatons of political ads, but none from the Barack Obama or Mitt Romney campaign about the most ambitious and controversial new law in decades, the Patient Protection and Affordable Care Act of 2010.
A perfect storm of silence has swept the issue off the national radar screen. This election will be a referendum on many things, but Obamacare is not one of them.
Health care remains a lively topic in some congressional races, and each party and its multiple subsidiaries and super PAC outliers are pushing it in some way. The Obama campaign, for example, is targeting young female voters and minorities with information about the law's specific features; Republican PACs are carpet-bombing Democratic incumbents with health care attacks in red states such as North Dakota.
But on the big-buy level -- national swing-state advertising -- and in recent campaign speeches by both candidates, it's crickets. Why?
"Well, on a certain level the president doesn't want to talk about it because it's not that popular, and Mitt Romney can't talk about it because he essentially passed the same law in Massachusetts," said Mark Mellman, a Democratic pollster and an expert on the politics of health care.
"Senator Rick Santorum was right about at least one thing, which is that Romney was going to be unable to attack the president on health care," observed Mellman.
After the Supreme Court upheld the Affordable Care Act in June, the Romney campaign briefly aired an ad vowing to make repeal of the law his number one priority on "day one." The spot quickly disappeared from view.
The president's team produced the same obligatory TV spot after the justices' decision: a video of a speech in which Obama touted the most popular and easily understood features of the complex law. That didn't get much airplay, either.
The Supreme Court ruling coincided with the early summer period in which voters begin making final pre-election judgments about the economy. The campaign wars are now nothing but jobs and the economy. A recent New York Times/CBS poll in Ohio, Florida and Pennsylvania -- three swing states -- found health care finishing a distant second as a concern.
"If you are not talking about jobs and the economy, you aren't talking about what people want to hear about," said Mellman. "It's the whole ballgame."
In some state races, Democrats are standing up for the health care law, touting its most salable features and accusing their GOP foes of wanting to take those away. In North Dakota, for example, Senate candidate Heidi Heitkamp has been bombarded with anti-Obamacare ads, but she has fought back by defending the law.
The Obama campaign itself is bragging about the law in Spanish-language ads, featured on its website and aired on Hispanic media.
But the reelection campaign is not risking such a strategy in swing states such as Ohio. Undecided voters there and elsewhere tend to be white, middle-class and small-"c" conservative. In focus groups, they tend to see the health care law, which seeks to expand Medicaid coverage to millions of lower-income Americans, as a tax-burdening giveaway to the undeserving.
Swing voters don't buy the argument they're bearing the costs already, through higher health care prices for those who can pay. "You can try to explain that it's cheaper in the long run to pay for insurance, but these voters don't want to hear it," said a pollster who has conducted focus groups, but who declined to be named because of privacy commitments to his clients.
Ironically, some swing voters might be eligible for the expanded Medicaid assistance -- a fact that could well infuriate them as much as inspire them, strategists say.
"Folks have very deeply held, clear rationales for their thinking on this," said Mellman.
In other words, let's talk about something else -- and save the real health care debate, if there is another one, until next year.
Before You Go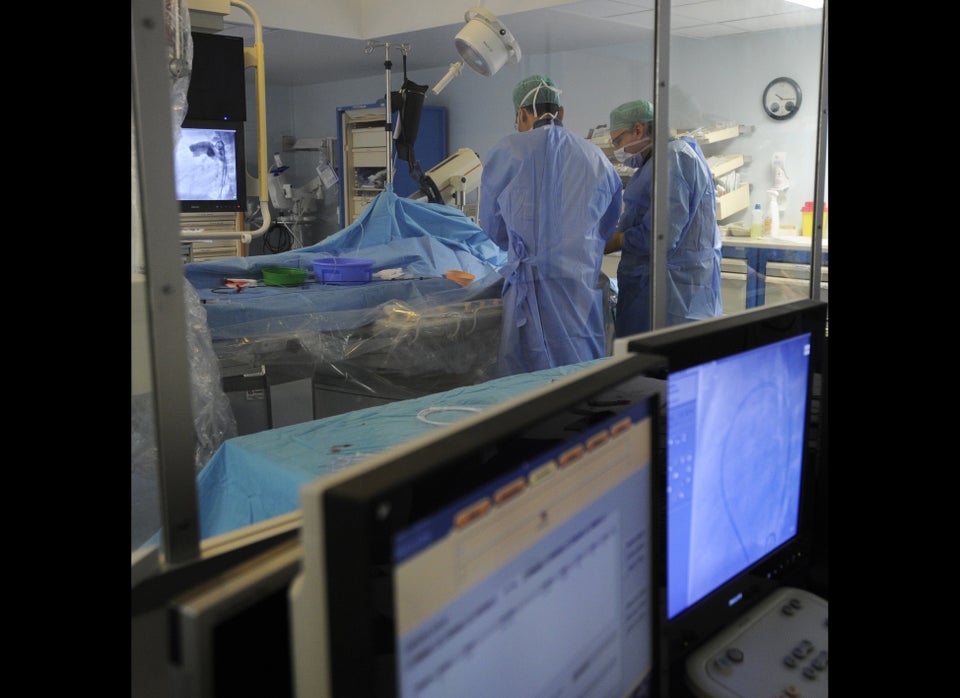 Lies And Distortions Of The Health Care Debate
Popular in the Community