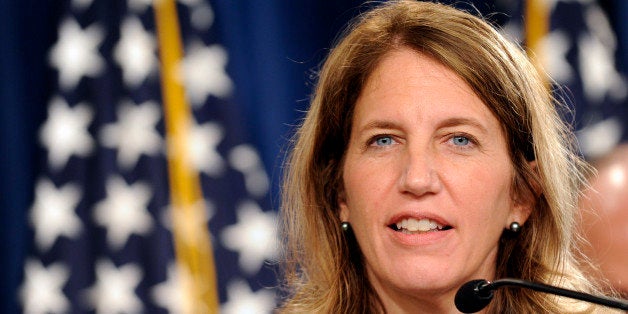 Obamacare's so-called government takeover of health care was supposed to destroy the private insurance market. Somebody forgot to tell the health insurance companies.
More health insurers are signing on to participate in Obamacare, Health and Human Services Secretary Sylvia Mathews Burwell said during a speech Tuesday at the Brookings Institution in Washington.
The number of companies offering plans on the Affordable Care Act's health insurance exchange marketplaces for 2015 will jump to 248, a 25 percent increase over this year, in the 44 states where the numbers are available.
The department offered details in a report published at the time of Burwell's remarks.
The increase in participating companies discredits a line of attack against the 4-year-old health care law that said it would crush competition.
Health insurance premiums tend to be lower in markets where multiple plans compete than in locales where one or two companies dominate. Although full information about premium prices on the Obamacare exchanges next year isn't yet available, the consulting firm PricewaterhouseCoopers estimates the average rise will be 7 percent. That is similar to or smaller than price hikes in the years before Obamacare, and rate increases and decreases will vary greatly across the country.
The 25 percent increase in plans on the exchanges for next year represents 77 new health insurance companies joining and 14 leaving. According to the HHS report, California is the only state where fewer insurers will sell coverage on its exchange. Information wasn't provided about Kentucky, Massachusetts, Minnesota, Nevada, Oregon or Vermont. Underscoring the volatility in this new health insurance market, Minnesota's exchange has lost its most popular insurer, meaning some customers will have to select new coverage for next year.
Nine states included in the HHS report will have the same number of health insurance companies in their exchanges for next year as they did in 2014, but the remaining 34 states will have more. Notably, New Hampshire and West Virginia each had only one insurer selling policies on its exchange for last year; for 2015, the states will have five and two, respectively. Indiana will see the most new insurers, with options rising from four to nine. New York has the most insurers in its exchange with 17.
Open enrollment on the health insurance exchanges begins Nov. 15 and runs through Feb. 15.
This story has been updated to replace outdated information from PricewaterhouseCoopers about projected health insurance increases next year.