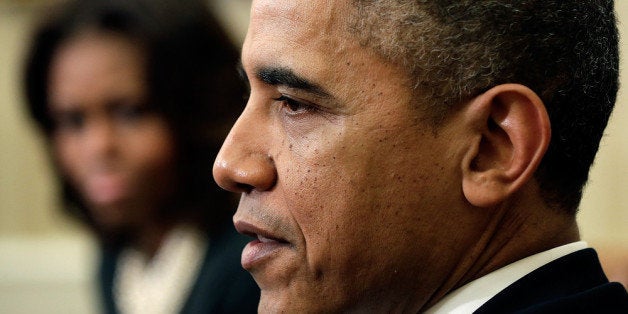 NEW YORK, Dec 20 (Reuters) - Americans have only a few more days to sign up for insurance plans created under President Barack Obama's healthcare law to ensure coverage starts on Jan. 1, a deadline that could triple demand and strain enrollment systems.
The expected rush could also encounter a new complication, as a handful of states have extended their sign-up deadline past the Dec. 23 date set by the federal government, adding an extra element of confusion for consumers.
More than 500,000 people have signed up for the new coverage under Obamacare, as the law is popularly known, according to a Reuters tally of reports from state and federally run exchanges.
The pace of sign-ups has accelerated since October and November, when technical problems crippled the federal HealthCare.gov enrollment website, but is still far behind the Obama administration's goal of providing insurance to millions of people by the end of March.
"They stepped all over the first two months of the enrollment period. Now I think there's this big effort to give people as much flexibility as they can to sign up for coverage effective Jan 1," said Karen Pollitz, senior fellow at the Kaiser Family Foundation. "The downside is there could be more confusion. The upside is that many more people could get in under the wire."
The administration has made late adjustments to help ensure people who need benefits on Jan. 1 will not face a gap in health coverage. It has even urged insurers to allow retroactive coverage for people who enroll after Jan. 1, while the deadline to pay for coverage depends on where enrollees live.
The government is still saying that consumers should sign up by the Dec. 23 deadline to ensure coverage starts at the new year - a point made by pro-Obama group Organizing for Action to the more than 40 million Twitter followers of @BarackObama. It also has some leeway under the law to allow sign-ups past that date should there be major technical problems with the exchange.
Last week, the administration said that nearly 2 million people have been determined eligible for coverage but not yet selected a health plan, providing some sense of how many consumers are still considering signing up under the Affordable Care Act, which was passed in 2010 and opened for enrollment on Oct. 1.
HealthCare.Gov, which consumers in 36 states rely on, is intended to accommodate 800,000 users a day. Any overflow is supposed to be handled by a queuing system, where visitors wait for traffic to clear.
The government has bolstered its training and staffing at 17 call centers in anticipation of a last-minute rush, adding 800 new agents to its ranks of more than 12,000 people, a senior administration official said.
"Many people tend to have questions and act when you come up against a deadline," said Julie Bataille, a spokeswoman for the agency overseeing the federal marketplace.
Several of the 14 states that are running their own exchanges say they have added capacity to their computer systems, or extended hours or increased staffing at call centers, where the volume of calls has risen this month more than some expected.
Some state-run marketplaces are already pointing to a spike in sign-ups. Covered California, which signed up 109,000 people during October and November combined, said on Thursday that 53,510 had enrolled in three days alone this week.
That includes 20,500 enrollees on Wednesday, a figure that Covered California executive director Peter Lee said he thought would be "greatly exceeded on the 23rd."
Kentucky's kynect exchange at the start of December added servers and made other technical refinements to boost capacity on the website by more than 80 percent. Last week, Kentucky enrolled 5,433 in private plans - a jump of one-third of all the enrollment the exchange had reported up to that point.
Washington's state exchange, Washington Healthplanfinder, last week saw the number of unique visitors to its website jump to 30,000 at one point, more than double prior levels. Such volume could triple as the deadline approaches, said Michael Marchand, director of communications for the Washington Health Benefit Exchange.
"Our biggest concern is volume, being able to meet the demand we're going to see," Marchand said.
Another concern, Marchand said, is whether some last-minute applicants put in erroneous information, leaving the exchange to sort out the data so coverage begins smoothly on Jan 1.
GETTING THE RIGHT INFORMATION
Ensuring that data from new members is accurately transmitted to insurers will be critical over the next few weeks, said Ron Williams, former chief executive of Aetna Inc , one of the largest U.S. health insurers.
"The biggest challenge is just the reconciliation of the exchange enrollment process," Williams said. "It's aligning what the consumer believes has happened with what has actually happened."
Aetna's chief financial officer, Shawn Guertin, said the insurer has set staff levels in preparation for much higher enrollment than has so far occurred. But he said that while volumes are up since Nov. 30, "they still are quite low in absolute terms."
Calling all HuffPost superfans!
Sign up for membership to become a founding member and help shape HuffPost's next chapter
BEFORE YOU GO
PHOTO GALLERY
Obamacare's Biggest Losers