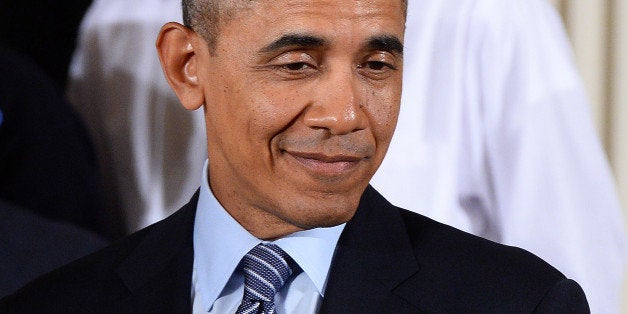 WASHINGTON, April 30 (Reuters) - As the U.S. economy teetered on the brink of contraction in the first quarter, one thing stood out. Healthcare spending increased at its fastest pace in more than three decades.
That surge is attributed to the implementation of President Barack Obama's signature healthcare law, the Affordable Care Act, also known as Obamacare. Because of Obamacare, the nation narrowly avoided its first decline in output in three years.
"GDP growth would have ... been negative were it not for healthcare spending," said Harm Bandholz, chief economist at UniCredit Research in New York.
Healthcare spending increased at a 9.9 percent annual rate, the quickest since the third quarter of 1980, and it contributed 1.1 percentage points to GDP growth.
The economy expanded at only a 0.1 percent rate in the first quarter, held back by a drop in exports and business investment, which economists attributed to a harsh winter. A sharp slowdown in the pace of inventory accumulation was also a drag.
The gauge of healthcare spending published on Wednesday is simply an estimate based on Medicaid benefits, ACA insurance exchange enrollments, and other related information. Firm data will not be available until June, and the government could well revise its figures for both healthcare and overall GDP.
About eight million people have so far signed up for healthcare insurance under the law, and the jump in healthcare spending had already been flagged in the government's monthly income and consumer spending data.
White House economic adviser Jason Furman said the increase should not be a cause for alarm.
"Any upward pressure on healthcare spending growth from expanding insurance coverage will cease once coverage stabilizes at its new, higher level, so it does not affect the longer-term outlook for spending growth," he said in a statement.
Obamacare provides coverage for residents who previously did not have health insurance, as well as subsidies to those who cannot afford monthly premiums. These transfers are helping to free-up income and more people are making visits to hospitals.
Economists said both the subsidies and hospital visits were contributing to the surge in healthcare spending.
"You have those two separate things that are working; the challenge is we don't know the split between newly insured and previously insured," said Alec Phillips, an economist at Goldman Sachs in Washington.
Healthcare spending could rise again in the second quarter, but probably not at the first-quarter's rapid pace.
Through February, estimated personal income from Medicaid and other social benefits - the category where the tax subsidies through the health exchanges show up - was running ahead of the actual increase in healthcare consumption.
"That kind of implies that there may be at least a little bit more in terms of growth in health consumption from essentially those new benefits that have been provided," said Phillips. "With that said it also implies that we have probably seen a decent amount of it already."
Government transfers, including health insurance premium subsidies, boosted personal income in the first-quarter. (Reporting by Lucia Mutikani; Editing by Andrea Ricci)

Popular in the Community