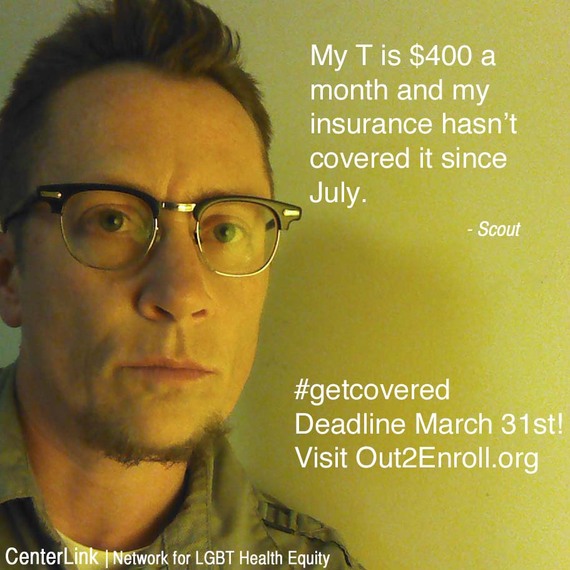 It's a bit embarrassing to admit how difficult it was to sign up for health insurance on the new exchanges. As a public health professional who's trying hard to spread the word that people need to #GetCovered, I was trying to studiously ignore how every time I called there was some problem in signing up. Ultimately, it seemed to be related to my name change. Maybe it was more complicated because I only have a single name? I just hope every trans person doesn't have to go through some of the hoops I did in proving they are U.S. citizens, because I know it delayed my enrollment by months.
One of the myths about these health insurance exchanges is they are only for the uninsured among us, or only for low-income folk. Actually the exchanges offer a chance of better health insurance for many of us. For example, I was already enrolled in health insurance, but to my dismay it didn't cover any testosterone, which left me skipping some months then finally shelling out $400/month through clenched teeth. Plus, my health insurance didn't include dental coverage, so I carefully unclenched those teeth again.
To be honest, I had to call the Rhode Island health insurance exchange probably eight times. First there was the complication of not living in the same state as my partner. While some private insurance plans would cover us both, the exchanges wouldn't. Then they asked me to send in my drivers license and social security card to prove I was a citizen. So I scanned and uploaded them to the site then I waited for some notice it was ok to proceed... and crickets. It's easy to put off enrolling like it's easy to put off writing a will. Nothing bad is going on now, right? With three teenagers and a busy job, I had lots of other things competing for my attention. But once a month, as I shelled out that $400 for hormones, I kept remembering that maybe that insurance exchange could do this better?
So I called back and filled out more of the application with the friendly person on the line. But now they needed to know how much my kids' health insurance premiums were. Really? I am not the parent who pays them, so why did it matter? It stopped me again, until that $400 payment came again and I was motivated to track down the info and called back. This time, they needed even more information about my name change. I was definitely trying hard not to curse the insurance exchanges at this point. Remember, the party line is #GetCovered. Repeat until you believe it. Or better yet, go back and watch the hilarious SNL skit on the early website problems. I've watched it so many times now I can do a fair impersonation of their Sebelius impersonator.
Ultimately, it was the coming deadline which moved me off my duff again. If people don't get enrolled by March 31st, it's see ya later until next year's open enrollment period. So, I found my birth certificate, my legal name change document and uploaded them to the site. And voila -- they finally admitted I was a U.S. citizen. I could choose a plan!
But wait, the runaround stop didn't stop there. I wasn't going to sign up for another plan that didn't include hormones. Plus, I needed to make sure my trans-friendly doc was in their plan. That took four more confusing calls, this time to Blue Cross. But everything was included. And I was going to get sweet dental coverage for the whole family too, including 50 percent of my kids' braces costs. I signed up like lightning.
I can't lie; it was a total hassle for me to sign up and it could be for you too, but trust me it's worth the hassle. I was cursing the insurance exchanges before but now I say bring on the new coverage as fast as it can come. Remember, we've only got until March 31st to sign up so spread the word. Visit Out2Enroll for more information and find more social media friendly images on the CenterLink Network for LGBT Health Equity blog here.
Popular in the Community