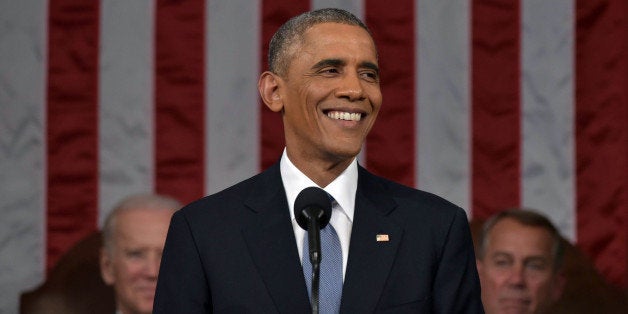 More than 9.5 million people have signed up for private health insurance coverage this year using the Obamacare exchanges, the Department of Health and Human Services disclosed Tuesday, putting the program within striking distance of meeting its enrollment targets.
The deadline to choose a health insurance plan on the Affordable Care Act's exchange marketplaces like HealthCare.gov and Covered California is Feb. 15. Federal officials projected at least 10.3 million would be enrolled by that date, and that at least 9 million would have this form of health coverage by the end of the year. The new figures do not reflect how many enrollees have paid for their insurance, which is the final step to securing coverage.
With the technical failings of HealthCare.gov and several state-run health insurance exchange websites behind them, the marketplaces mostly are managing this year's sign-up period smoothly. The Department of Health and Human Services estimates that 42 percent of enrollees through mid-January -- 3 million people -- are new to the exchanges, while most others are renewing coverage. Enrollment for 2015 insurance plans began Nov. 15.
"We still have a lot of work to do before Feb. 15, but are encouraged by the strong interest we've seen so far," Health and Human Services Secretary Sylvia Mathews Burwell said in a press release.
The federal government is handling enrollment in 37 states, while 13 states and the District of Columbia operate their own health insurance exchanges. More than 7.1 million of the sign-ups came from those federal exchanges, while more than 2.3 million were via state-run marketplaces. The vast majority of those signing up are eligible for financial assistance: 87 percent on the federal exchanges and 70 percent in the nine state exchanges that provided this information to the Department of Health and Human Services.
The enrollment figures from state-based health insurance exchanges undercount the total number of sign-ups. Hawaii, Maryland and Massachusetts did not report how many customers automatically re-enrolled into the policies they had in 2014. Idaho launched its own exchange for 2015, and also is not reporting what share of its residents who used a federally run exchange last time are signing up again.
The Congressional Budget Office projects greater enrollment in health insurance from the exchanges this year than the Department of Health and Human Services. According to a report issued Monday, the CBO expects an average of 12 million people to have this form of coverage over the course of 2015. The same report also estimates the Affordable Care Act will cost taxpayers about 20 percent less than projected in 2010, partly because of enrollment totals and health insurance premiums that are lower than expected.
Popular in the Community