WASHINGTON -- Fewer than 1 million new customers nationwide will have health insurance from the Obamacare exchanges next year, according to a federal report published Thursday.
The Department of Health and Human Services estimates that 10 million people will be covered by private health insurance policies obtained via the Affordable Care Act's exchange marketplaces in 2016, an increase of just 900,000 from the 9.1 million people the department estimates will have such plans by the end of this year.
This nearly flat estimate of growth on the exchanges reflects both the successes so far and the challenges ahead for the new marketplaces created by the Affordable Care Act. The nationwide uninsured rate has plummeted since 2013 as an estimated 15 million people gained coverage from the exchanges or the law's expansion of Medicaid eligibility. But Health and Human Services Secretary Sylvia Burwell acknowledged last month that those uninsured most eager to enroll have already done so, and that the remaining millions would be difficult to enroll.
"We believe 10 million is a strong and realistic goal," Burwell said in conference call with reporters Thursday. "We've seen high levels of satisfaction with the marketplace and expect the vast majority of folks will re-enroll. And our target assumes something that is probably pretty challenging, which is that more than one out of every four of the eligible uninsured will select plans," she said.
One reason for stagnant enrollment is that the number of people who still need to sign up has decreased as people have gained coverage in recent years, according to Larry Levitt, a senior vice president at the Henry J. Kaiser Family Foundation. "Behind this projection is the reality that the remaining uninsured are getting harder to reach, so it's going to be very difficult to increase enrollment significantly going forward," he said in an email.
But HHS' 2016 projections also may portend more significant problems. "At some point, low enrollment growth may prompt a legitimate discussion of whether the ACA is lowering the number of people uninsured by enough, and whether the subsidies in the law are enough to make coverage affordable," Levitt said. Nationally, the Kaiser Family Foundation estimates 35 percent of potential exchange customers have coverage from that source.
According to the new HHS report, about 10.5 million people who currently have no health insurance are eligible to purchase health plans from exchanges -- meaning they don't have access to coverage from another source, like Medicaid or an employer, and are legal U.S. residents. The number represents 49 percent of the uninsured.
Another 19 percent of the uninsured may qualify for Medicaid or the Children's Health Insurance Program, but 11 percent don't because they earn less than poverty wages and live in states that didn't expand Medicaid under the Affordable Care Act, which left them without access to that program or to subsidized private insurance. The last 21 percent of uninsured are ineligible because they are undocumented immigrants, the report estimates.
"We're starting this year with significantly fewer uninsured that are eligible than last year's population," Burwell said. "We know our audiences are going to be harder to reach. We're going to work smarter to reach them."
HHS expects more than one-quarter of qualifying uninsured people will have coverage in 2016, she said. Burwell previously announced that enrollment outreach for 2016 coverage would target people in geographic areas with high concentrations of low-income uninsured people, such as Chicago and Dallas.
About half of the uninsured people who could use the exchanges are between the ages of 18 and 34, Burwell said. This is a population least likely to have the high medical costs that make health insurance most valuable, and has proved a difficult sell.
Forty-eight percent of uninsured potential exchange customers could qualify for large subsidies because they earn less than 250 percent of the federal poverty level, which is about $60,600 for a family of four, HHS estimates. Nearly 80 percent could get at least some financial assistance because their incomes are below four times the poverty level, or about $97,000 for a family of four. But more than one in five earn more than that, and aren't eligible for tax credit subsidies to cut premium costs.
The projection that 10 million people will have exchange plans next year is one of a range of possibilities outlined in the HHS report, which estimates the figure could be as low as 9.4 million or as high as 11.4 million. These numbers represent people actually having insurance at the end of 2016, and include the people who have exchange plans now as well as new enrollees.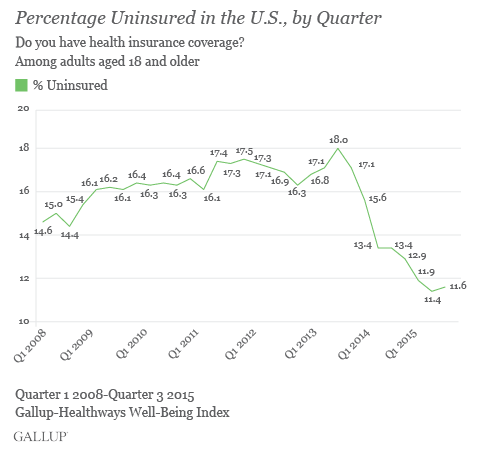 But attrition on the health insurance exchange has been a factor. After the 2015 sign-up period that ended in February, 11.7 million people had selected insurance plans from the marketplaces. That number declined throughout the course of the year, as consumers either failed to pay premiums or dropped coverage for reasons including affordability concerns and switching to health benefits provided by an employer.
More than 400,000 people lost coverage because they did not verify they were legal U.S. residents. The marketplaces also experienced disruption when nearly 1 million people saw their subsidies adjusted because the income they reported differed from their actual earnings.
During the enrollment period for 2016 coverage that begins Nov. 1 and ends Jan. 31, HHS expects that as many as 8.8 million current enrollees will use the exchanges to obtain coverage for next year, up to 3.9 million currently uninsured will sign up and as many as 1.5 million people who today have plans purchased directly from an insurer will switch to the marketplaces, according to Thursday's report.
Federal authorities expect a similar pattern of enrollment and disenrollment during the upcoming sign-up period as they experienced in 2014 and 2015. Although HHS estimates between 11 million and 14.1 million people will use the exchanges to get health insurance for 2016, millions will go off those plans during the course of the year, the department projects.
While the health insurance exchanges have made significant strides since their rocky rollout two years ago, new challenges await during the upcoming sign-up period.
Poor public understanding of how the health insurance exchanges operate and who is eligible remains a problem more than five years after the Affordable Care Act became law. "We know that the remaining uninsured have a lot of concerns about whether or not they can afford coverage," Burwell said. "Almost 60 percent are either confused about how the premium tax credits work or don't know that they are available."
HHS is on target to meet its own internal projections for 2015 enrollment, but the trajectory of growth on the exchanges is markedly different from what the Congressional Budget Office expected.
In a March report, the CBO predicted that 21 million people would be insured via the exchanges, or more than twice as many as HHS now estimates. The CBO also said that the size of that market would remain in the low 20 millions over the next decade.
Most of the difference is that CBO expected large numbers of employers to cancel their health benefits and direct workers to the health insurance exchanges instead, which hasn't happened, said Richard Frank, assistant secretary for planning and evaluation at HHS. Fewer people who buy their own health insurance directly have opted to use the exchanges instead, as well, he said during the conference call.
Exchange enrollment will reach the levels CBO predicted, but more slowly, Frank said. "We're not seeing evidence of having plateaued. What we are seeing evidence of is rather than reaching the plateau in three years, as CBO projects, we are seeing a much longer path to the longer-term equilibrium for this market," he said.
Jonathan Cohn contributed reporting.
CORRECTION: An earlier version of this story contained two errors. The federal government manages health insurance enrollment in 38 states, not 37. And the federal government didn't rescind coverage from nearly 1 million people, but instead altered their subsidy amounts to reflect their actual incomes.
Popular in the Community