With the deadline for signing up today, the motivation appeared to be simple: administrative sabotage. The ads were already paid for. Customers, especially those in the crucial young and healthy demographic, tend to sign up for health care coverage as the deadline nears. And research shows that late reminders are highly effective in getting them to sign up. To remove those ads now takes away one of the main mechanisms for ensuring the law's sustainability and success.
The Department of Health and Human Services said Friday that automated phone calls, emails and other digital outreach would continue, but it was too late to revive the ad campaign before the Jan. 31 deadline.
The Trump administration's moves and counter-moves add to a years-long partisan battle surrounding the law. And it fundamentally shifts the role that the press now must play. In addition to following the contours of that fight and the White House's efforts to undermine Obamacare, we now have an obligation to inform our readers, viewers and listeners about how to sign up for health insurance.
There shouldn't be much debate.
This isn't about weighing the merits of Obamacare or the insurance that one can purchase through the exchanges. The law has its flaws and successes. Rather, it is about bringing to light government data that have been proactively hidden from the public and giving information to citizens to allow them to make more informed decisions. In many respects, it is a textbook example of public service journalism.
Choosing a health insurance plan can be difficult because these policies are complicated financial products. The good news is that official sources, like the health insurance exchanges run by federal and state authorities, offer a lot of help in signing up for coverage and applying for financial assistance. There also are enrollment counselors across the country whose job is to help people pick a plan, and the counselors offer their services free. Insurance agents and brokers also are available.
Here is a rundown of what you need to know about the upcoming Obamacare deadline.
* HealthCare.gov is a good first stop for those researching their options, and it is where residents of 39 states go to buy policies and receive financial assistance if they're eligible. CuidadoDeSalud.gov is the Spanish-language version of the website.

* The federal hotline for people seeking more information or help signing up is (800) 318-2596, and it has representatives who speak English, Spanish and other languages.

* Eleven states and the District of Columbia operate the health insurance exchanges for their residents. A list of the websites for those exchanges is available on HealthCare.gov.

* HealthCare.gov includes a searchable directory of enrollment counselors in the 39 states it serves, and CuidadoDeSalud.gov features a Spanish-language edition of that directory. The state-run exchange websites have their own directories.

* Health insurance companies also sell policies directly to consumers, and online brokers, such as eHealth.com and HealthInsurance.com, allow comparison shopping for health insurance plans that aren't sold on the exchanges. Qualifying consumers cannot obtain subsidies without using a government exchange, however.

* The Henry J. Kaiser Family Foundation created a subsidy calculator people can use to estimate the tax credits they may receive to make their health insurance more affordable.

* ObamaCareFacts.com is a comprehensive and reliable source for basic information about the Affordable Care Act and the enrollment process.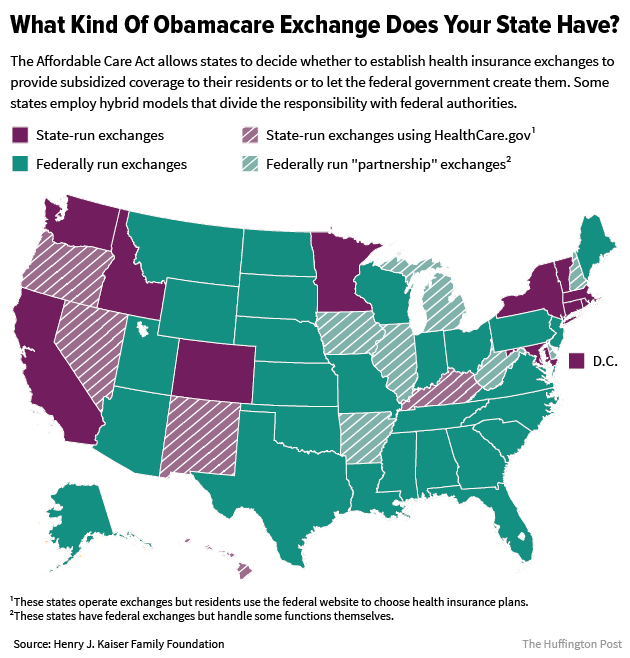 Popular in the Community