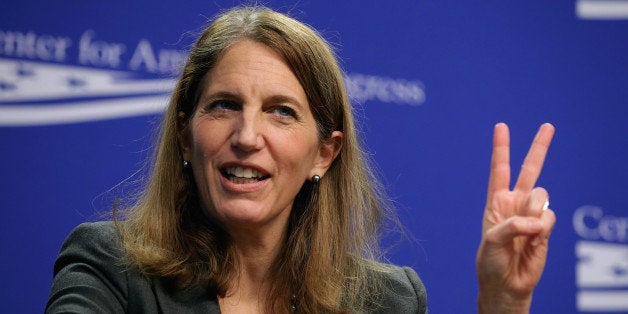 Enrollments via the federally run Obamacare health insurance exchanges on HealthCare.gov surged leading up to a big deadline last week and reached almost 6.4 million after the first month of sign-ups, the Department of Health and Human Services announced Tuesday.
"We still have a ways to go and a lot of work before Feb. 15, but we do have an encouraging start," Health and Human Services Secretary Sylvia Mathews Burwell said at a press conference Tuesday. "This law is working, and families and businesses and taxpayers are better off as a result."
"A month ago, people were raising questions about whether or not consumers would actually come to the marketplace," Burwell said. But the HealthCare.gov website is working, more insurance companies are offering policies compared to last year, and premium increases are modest on average, she said.
Just 106,000 people managed to sign up during the first month of the inaugural enrollment period, while more than half a million chose policies during the first week of this year's campaign.
The improvements at the federal level are mirrored in the states with their own insurance marketplaces. States with troubled exchanges last time around, including Maryland and Massachusetts, have rebounded, and other states still having technical problems, such as Minnesota, nevertheless are signing up consumers. The exchanges in the populous states of California and New York performed well during the first enrollment period and continue to enroll large numbers of residents.
"It definitely looks like it's going to work," Caroline Pearson, vice president of the health care reform practice at the consulting firm Avalere Health, said before the HHS announcement. "All signs are that the markets are working really effectively. You've got an increased insurer participation and very stable premiums," she said. The average nationwide price increase for next year is 5.4 percent, but there's a lot of variation and some premiums even went down, according to PricewaterhouseCoopers.
In addition to the 1.9 million new customers who signed up, about 4.5 million current customers have re-enrolled for next year. Most of them automatically were rolled over into their current plans -- or the next closest thing if their policies have been discontinued -- for 2015.
Significantly, however, more than one-third of existing customers took active steps to re-enroll, rather than opting to be automatically re-enrolled, Burwell said. According to the department's preliminary analysis, a share of current enrollees in the mid-to-high 30 percent range did so; this was more than expected based on how people with other types of coverage, including job-based health benefits, tend to keep the same plans every year rather than comparison shop, she said.
"In looking at what happens with people in employer-based plans and other things, I think probably wouldn't have expected a number that high in terms of people's behavior," Burwell said. This could mean fewer of consumers than feared will suffer sticker shock next month.
Shopping around is crucial to consumers looking to avoid big rate hikes, especially for the more than 8 in 10 enrollees who receive Obamacare tax credits. Volatility in health insurance premiums, especially among those plans used to set the value of the Obamacare subsidies, means more than 70 percent of people who signed up for these plans could save money by changing to new policies, according to HHS.
Consumers who are automatically re-enrolled can switch to a cheaper policy for February if they make a change by Jan. 15, and all enrollees can choose a different plan for the rest of the year by Feb. 15. But anyone who didn't choose a new plan by Dec. 15 will have to keep what they have in January, unless they opt to go uninsured for the month instead.
Despite the positive trends for 2015 enrollment, projections from Avalere, the Congressional Budget Office and the Department of Health and Human Services are lower than before the beginning of the first-sign up period, and evaluations of the exchanges' performance during the 2015 sign-up phase should consider that, Pearson said.
"It looks good relative to the expectations or the goals that HHS set for themselves, but it looks a bit disappointing relative to where we thought we would be a year ago," Pearson said. "It has proven harder to do the outreach and get people to sign up than we expected and it's been harder to keep people enrolled."
Exchange enrollments for 2014 peaked at more than 8 million, but dipped to 6.7 million as of October as a share of customers gave up their plans, for reasons including not being able to afford the premiums, not valuing the coverage, gaining employment at companies that offer health benefits or enrolling into Medicaid because their incomes fell. HHS expects 83 percent of the total number of enrollees as of Feb. 15 to still be covered by exchange plans at the close of 2015.
Pearson expects enrollments to spike again by Jan. 15, as current customers who didn't shop around scramble for lower-cost policies for the rest of the year, and then again when the final deadline arrives on Feb. 15.
This article has been updated with additional information from a news conference with Health and Human Services Secretary Sylvia Mathews Burwell and from a federal report.
To see an estimate of how much your health insurance might cost, use this calculator from the Henry J. Kaiser Family Foundation:
Calling all HuffPost superfans!
Sign up for membership to become a founding member and help shape HuffPost's next chapter