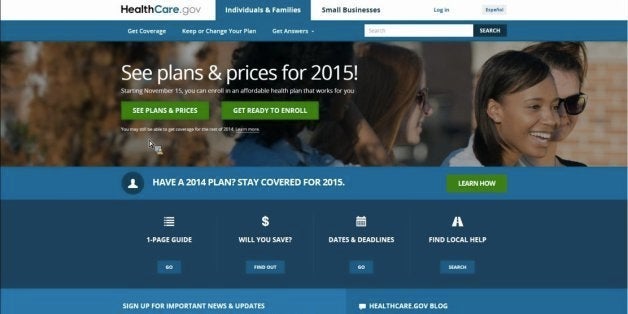 Just days ahead of the next Obamacare sign-up period, the Department of Health and Human Services is scaling back projections of how many people will be enrolled by the end of next year.
Health and Human Services Secretary Sylvia Mathews Burwell said the department's target for 2015 is on the lower end of the range outlined in the report. "The number that we are going to aim for is 9.1 million," she said during an event at the Center for American Progress in Washington. "Probably the market will grow between 25 and 30 percent."
On net, the projection amounts to just 2 million additional customers in private health insurance obtained through an Obamacare exchange by the end of 2015, compared to this year.
HHS officials, speaking to reporters on condition of anonymity Monday, attributed the reduced projection for 2015 Obamacare enrollment mainly to the expectation that fewer consumers than previously estimated would move away from job-based insurance or private plans purchased outside the exchanges from insurers or brokers.
"We think that the evidence points to a longer ramp-up rate than the CBO projections had, and that is based on what we've learned over the last year from looking at our own data and from examining the experiences of other, similar types of programs," one HHS official said. The CBO had predicted 24 million consumers would be purchasing private insurance on an exchange by the end of 2016. HHS maintains exchange enrollment still will rise to the 25 million CBO projected for 2017 and future years, but that it may take until 2019 instead.
Burwell outlined the new challenges facing Obamacare enrollment, emphasizing that the coming sign-up period will be the first time the exchanges handle new customers and existing policyholders seeking to renew, and that it will last half as long as the six-month enrollment phase that began last October. In addition, the next wave of uninsured people who gain coverage may be smaller because the people who were easiest to find already signed up. "The next group of people will be harder to reach," Burwell said.
Still, the majority of new Obamacare customers next year will come from the ranks of the currently uninsured, the department's report concludes. "HHS's analysis implies that most of the new marketplace enrollment for 2015 is likely to come from the ranks of the uninsured, with approximately three or four previously uninsured new enrollees for each new enrollee drawn from the ranks of those who previously had off-marketplace individual coverage," the report says.
HHS estimates that the population potentially eligible to use a health insurance exchange to buy private coverage is 23 million to 27 million people, including 15 million uninsured who qualify for subsidized private coverage and 8 million to 12 million who now buy plans directly from an insurer or through an agent or broker. Subsidies are only available via an exchange, and 85 percent of this year's enrollees received the financial assistance.
Federal officials think that 83 percent of the 7.1 million currently covered by insurance purchased on an exchange, or 5.9 million individuals, will still be covered by insurance purchased on an exchange by the end of next year, based on information from surveys, state-run exchanges and one unnamed insurance company, which show a range of 70 percent to 90 percent retain this type of insurance over the course of a year.
For the three-month 2015 enrollment period, HHS expects that 10.3 million to 11.2 million people will select an insurance plan on an exchange and that 9 million to 9.9 million will still have this coverage at the end of the year.
One HHS official stressed that the department does not believe that many of the individuals giving up exchange insurance plans this year or next are becoming uninsured. Officials did not provide estimates of how many have become insured or how many have switched to another form of health coverage. Surveys by Gallup and others show the uninsured rate is lower this year than in 2013.
"A number of things happen in that population. Some folks are getting jobs, so they go into their employers' insurance. Some folks may be eligible for Medicaid. There's a natural churn to a population in a marketplace, and so this type of retention number is not unexpected," the official said.
The decline in enrollments from August to October was largely the result of 112,000 households, representing an undisclosed number of people, losing coverage because they failed to provide up-to-date information about their incomes or their citizenship and immigration status, officials said.
The open enrollment period for private health insurance available to individuals who do not receive coverage through an employer or a government program like Medicare or Medicaid begins Saturday, Nov. 15, and runs through Feb. 15.
This article was updated after publication with remarks from Health and Human Services Secretary Sylvia Mathews Burwell.
CORRECTION: A previous version of this story misstated the high end of the estimate for enrollment at the February deadline as 11.7 million.
Support HuffPost
The Stakes Have Never Been Higher
Related
Popular in the Community