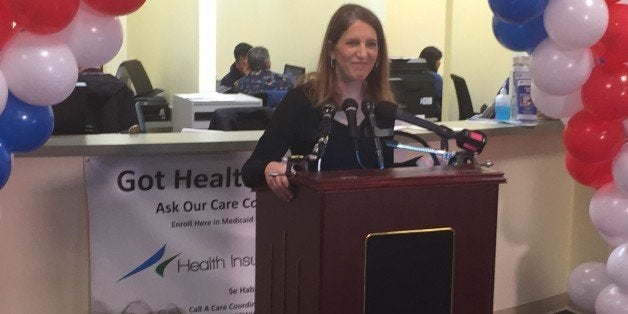 MANASSAS, Virginia -- The website hasn't crashed, government officials aren't scrambling, and Americans are actually using the Obamacare exchanges to shop for health insurance. What a difference a year makes.
Open enrollment for the private health plans sold on HealthCare.gov, the online portal to exchanges for 37 states (including Virginia), and on the state-run exchanges for the other states started Saturday. Compared to Oct. 1, 2013, when the federal website and numerous state sites launched and immediately crashed -- frustrating consumers and giving Obamacare a black eye that still hasn't faded -- the beginning of the second sign-up period appears to be going smoothly.
"I am quite happy that we are where we are this morning," Health and Human Services Secretary Sylvia Mathews Burwell said during a brief news conference at Evergreen Health Center in Manassas, Virginia, on Saturday. "We are up and running."
In the eight hours since HealthCare.gov had re-opened for the three-month enrollment period at around 1:30 a.m. Eastern Time, the system had completed applications for 23,000 households, Burwell said at the press conference. Some consumers took the next step and selected a health insurance plan to use next year, but others still have to shop now that they have finished their applications for financial assistance, a department spokeswoman told reporters.
Saturday did see some glitches on HealthCare.gov. Some new users experienced problems logging into their accounts, USA Today reported.
Given that HHS aims to sign up more than 9 million people for private health plans through the federally run exchange, 23,000 doesn't make a big dent either. But the deadline to buy coverage isn't until Feb. 15, and the deadline for plans that take effect on New Year's Day is still a month way. And approaching deadlines sparked huge surges in enrollments during the previous sign-up period.
Compared to last year, 23,000 is a huge number for Day 1. Just six people were able to enroll on the first day of the inaugural enrollment period because of technological failures that crippled the system. Only 106,000 enrolled during the whole month of October 2013. By April 2014, 8 million people had used health insurance exchanges to choose a health plan. More than 7 million were fully enrolled a month ago, as some consumers had given up their Obamacare plans either to switch to a different form of coverage or to go without, HHS announced earlier this month.
Jason Shriner said he enrolled in a plan for next year at Evergreen Health Center without much difficulty. "For the most part, it was fairly easy to use," said the 28-year-old from nearby Nokesville, who teaches baking classes for a living.
Shriner's current health plan isn't being offered next year, so he had to find something new -- and less expensive, because his income has gone down. He chose a "Silver" plan that's cheaper than the coverage he has now, he said.
"I'm super-excited about it. I mean, I'm going to be saving $100 a month. That's going to go a long way," said Shriner. Including a $219 monthly tax credit based on his income, he will pay about $25 a month for his insurance, which includes medical, dental and vision benefits, Shriner said.
The first year of Obamacare's health coverage expansion had a positive impact here in Northern Virginia, said Frank Principi, executive director of the Greater Prince William Community Health Center, which operates Evergreen Health Center in Manassas and Ridgewood Health Center in Woodbridge.
Before last year's enrollment period, 60 percent of the clinics' patients -- primarily Hispanic and African-American, Principi said -- had no health insurance. This year, that number is down to 52 percent, despite the problems with HealthCare.gov and despite the failure of Virginia to adopt the Affordable Care Act's expansion of Medicaid to more poor residents, Principi said.
"The first thing we say to the patient when they register in the waiting room is, 'Can we help you pay your medical bills?'" said Principi, who also is a Democratic member of the local county board of supervisors. Enrollment counselors working in the clinics helped 1,400 people sign up for coverage this year, Principi said, and he aims to get another 1,800 covered for 2015.
On Saturday, dozens of people occupied the waiting room and meeting rooms at the Manassas clinic to meet with enrollment counselors, and Principi expected 500 visitors by the end of the day's event. The health center had promoted the assistance in English and Spanish on local TV, radio and newspapers, as well as through social media channels and texts to patients, he said.
The people who visited Evergreen Health Center were a mix of those who need to renew existing coverage or switch to a new plan next year and those who currently have no health insurance, said Jabnia Murgado, of Woodbridge, who was one of the 14 enrollment counselors on hand. By mid-afternoon, Murgado had helped more than 10 people, though none who completed the process and enrolled in a plan.
Last time, clinic employees were forced to resort to filling out paper applications that they later entered into HealthCare.gov, but they weren't having serious issues on Saturday, Murgado said.
"The website is going great. I mean, there's always a little bit of glitches here and there, but the website is moving along. It has not stalled -- not as of yet, of course," she said. At times, the website ran slowly, and one consumer had to call the exchange's telephone hotline to get his password reset, she added.
In his weekly radio address on Saturday, President Barack Obama urged current exchange customers and the uninsured to visit HealthCare.gov.
"If you already buy insurance through the online marketplace, now is the time to take a look at some new options for next year. You might be able to save more money or find a plan that fits your family's needs better than the one you've got now," Obama said. "If you haven't signed up for insurance yet, this is your chance."
HealthCare.gov now must cope with even greater loads than last year, as millions of consumers seek to renew their coverage and millions more attempt to sign up for the first time. Moreover, the sign-up period for 2015 runs only half as long as the initial enrollment period, which ran from October 2013 into April 2014.
The Obama administration has spent the time since that first round enhancing the system in anticipation of the next wave, adding new features and streamlining the application. States with poorly functioning websites, including Maryland and Massachusetts, also revamped their technology.
That doesn't mean officials expect this time around to be perfect, Burwell said Saturday.
"I will still always have some tension, certainly, for the next three months," the HHS secretary said. "We're going to continue to watch everything and monitor everything. As I've said all along, there will be places where we'll find things. What we're to do is quickly work to take care of anything we find."
Problems did arise Saturday. Washington Healthplanfinder, which serves Washington state residents, was miscalculating applicants' subsidies, forcing the entire system to be taken down, the state-run exchange announced in a press release just hours after enrollment began. A similar problem plagued Washington's exchange last time.
Burwell did not provide information about how many of the 23,000 applications were made by people renewing coverage versus potential new enrollees, about how many people were telephoning the federal exchange's call center and how long they waited to speak to a representative, or about how many users have visited the website.
Popular in the Community