Obamacare is going to have to return its hero's cape, and we're all going to have to learn to think twice before we over-react to shaky economic data.
Two months ago, President Barack Obama's signature health-care reform law was widely credited with saving the U.S. economy from shrinking in the first quarter by giving a huge jolt to health-care spending. On Wednesday, we found out that had all been a mirage.
Using more-solid data than it had two months ago, the U.S. Bureau of Economic Analysis found that health spending actually shrank in the first quarter, weakening overall consumer spending and contributing to a terrible quarter for the broader economy. Gross domestic product shrank at a 2.9 percent annualized rate in the quarter, the worst since the depths of the Great Recession, with health spending alone shaving 0.16 percentage points from growth.
What a difference from two months ago, when the BEA first guesstimated that health spending soared at a 9.9 percent rate in the quarter, helping to keep the economy out of the dumpster. Many news outlets, including yours truly, ran headlines like this: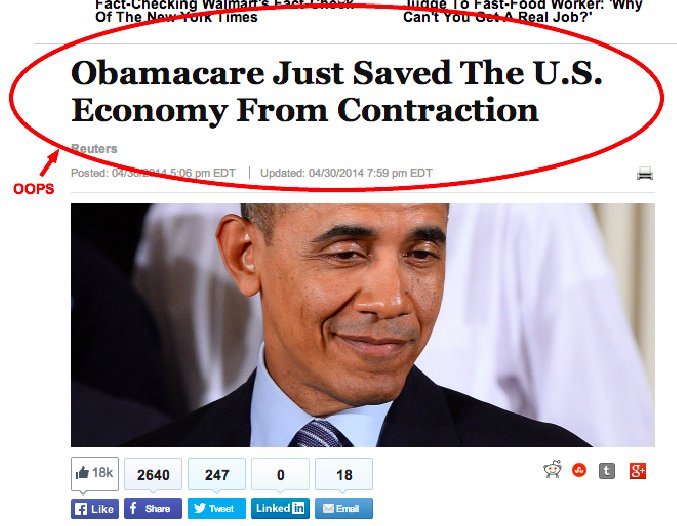 Other outlets, with differing ideologies, zeroed in on the alleged spending surge as a bad thing, pointing out that one of the goals of Obamacare was to reduce such spending.
We were all wrong. It turns out that health-care spending actually fell, as apparently millions of new Obamacare and Medicaid enrollees boosted their total health-care spending much, much less than the BEA had guessed they would.
We should have listened to our own health-care reporter Jeffrey Young, who wrote when the first data came out:
Because everything with the words "health care" in it have been intensely politicized since 2009 when Congress started writing what eventually became the Affordable Care Act, every number that comes out has a tendency to be overanalyzed, and people on the left and the right have a tendency to draw grand conclusions from what can be pretty meager, preliminary information.
Young also pointed out that the long-term trajectory of health-care spending should be higher, anyway, given an improving economy, an aging population and other factors. On Wednesday, the White House suggested that health spending should pick up, but health prices should stay low, both of which the White House naturally attributed to Obamacare.
And we might not really have seen the full impact of Obamacare sign-ups on the economy yet, particularly as large numbers of them happened at the tail end of the first quarter, for insurance that actually couldn't be used until April -- the second quarter -- at the earliest.
Anyway, this episode highlights the risk we run every month of giving too much weight to any one economic number -- especially big, politically charged numbers like the unemployment rate and health-care spending. These numbers are often just best guesses that are revised completely beyond recognition in short order, and yet they can cause wild mood swings in consumers, politicians and financial markets. Better to be patient and stay focused on the big picture.
Support HuffPost
The Stakes Have Never Been Higher
Related
Popular in the Community