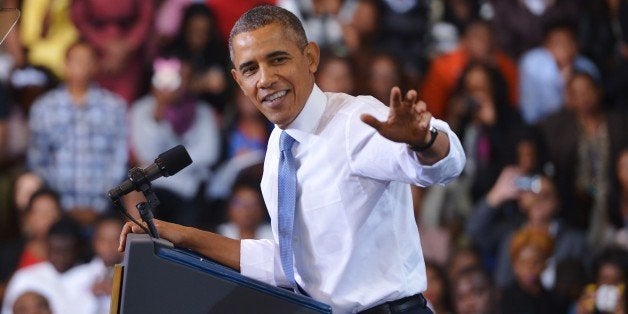 "There are going to be some glitches as this thing unfolds," Obama said. "Somewhere around the country, there's going to be a computer glitch and the website's not working quite the way it's supposed to, or something happens where there's some error made somewhere."
Indeed. We learned on Thursday that companies won't be able to shop online for health benefits on the law's health-insurance exchange for small businesses in a bunch of states on Oct. 1, as promised. The Spanish-language version of the exchange websites also won't be able to take applications right away.
These setbacks are embarrassing, but they don't mean individuals and small businesses can't buy health insurance next week. They just mean that, at first, some won't be able to use a website and will have to file paper applications or sign up by phone or through an insurance agent. That's an inconvenience, not a catastrophe.
The administration has previously cancelled or postponed other parts of the law, including a one-year delay in the requirement that large employers cover their workers or pay penalties.
These are real problems, and there could be more between now and next Tuesday, when insurance exchanges are supposed to open for the uninsured, people who don't get health benefits at work, and small businesses. The early days and weeks of sign-up probably will be rocky as the federal government, states, insurance companies and consumers journey into uncharted territory.
You couldn't be blamed for concluding that Obamacare just might be unworkable after all.
So what's going on here? The health-care system is fragmented and complicated to begin with, and Obamacare is built upon that foundation. The law Congress passed in 2010 asked the federal government, states and private companies to create a new system for buying and selling insurance from scratch and left a lot of questions unanswered. Obama signed this law, so its shortcomings are his responsibility.
The Obama administration insists that anyone who goes to the websites for the 34 states where the federal government is totally or partly in charge of the exchanges will be able to do everything they're supposed to do: comparison shop, find out if they're eligible for a subsidy, get the real prices for health insurance plans, and buy one. (If they speak English, anyway.)
This is key. And if that changes -- if there are more delays or the websites crash or no one picks up the phone at the call centers -- then the "train wreck" crowd will have their day, and Obama will be left to explain his broken promises and to convince the millions of people expected to use the exchanges to give him a second chance.
"I guarantee you, the opponents of the law, they'll have their cameras ready to document anything that doesn't go completely right, and they'll send it to the news folks and they'll say, 'Look at this, this thing is not working,'" Obama said Thursday.
The White House believes there won't be too many people left unhappy by any problems they encounter over the next month because few consumers are expected to even start shopping right away. Past experience with other major health-care program rollouts -- like Romneycare in Massachusetts seven years ago -- supports that theory. Similar problems dogged the launch, eight years ago, of Medicare Part D.
But any more bad publicity about Obamacare plays into critics' claims and furthers the stereotype that government can't be trusted or get anything right. That's a black mark a huge new program may not be able to afford in its first days of existence.
Calling all HuffPost superfans!
Sign up for membership to become a founding member and help shape HuffPost's next chapter
BEFORE YOU GO
PHOTO GALLERY
Obamacare Haters