On the first day Americans could shop for health coverage on Obamacare's new health insurance exchanges, 2.8 million people visited the federal government's HealthCare.gov -- as President Barack Obama's administration feverishly scrambled to fix glitches that prevented users from signing on.
But technical errors persisted, even as the administration touted high interest in the federal portal for more than 30 states, as well as intense activity on state-run exchanges. Though officials from the Centers for Medicare and Medicaid Services said they'd made strides correcting the federal exchanges' problems, The Huffington Post made dozens of attempts and still couldn't sign into the website late Tuesday afternoon.
The White House seeks to enroll 7 million people into the health insurance exchanges this year, so the high level of interest shown for HealthCare.gov and various state exchanges could be seen as good news for the administration. But technical problems could frustrate consumers and stifle enrollment if they're not resolved soon.
"We have had a few slowdowns, a few glitches, but it's sort of a great problem to have. It's based on the fact that the volume has been so high and the interest is so high," Health and Human Services Secretary Kathleen Sebelius said on MSNBC Tuesday. "We're working quickly to fix that."
In addition to the web traffic, Obamacare's federal hotline received 81,000 calls and the online help system logged 61,000 chats, according to the Department of Health and Human Services.
To criticize the health insurance exchanges' glitchy debut, or the small number of enrollments Tuesday, would be premature, according to Jonathan Gruber, a Massachusetts Institute of Technology economist who was an architect of the 2006 Massachusetts health care overhaul that served as a model for Obama's reform law and consulted on Obamacare.
"Hours or even days is not the relevant timeframe for evaluating exchanges," Gruber wrote in an email to the Huffington Post. "The question is simply whether there are ways that folks can sign up to get insurance by Jan. 1. That is a question for late November, not early October." Enrollment for 2014 health benefits runs until March 31 and coverage chosen by Dec. 15 takes effect on Jan. 1.
"If things are really buggy in six weeks, that could be more of an issue," Gruber said.
Some people were able to use HealthCare.gov to compare health insurance plans on price and benefits and to actually choose coverage for next year, despite the difficulties Tuesday, said Marilyn Tavenner, the administrator of the Centers for Medicare and Medicaid Services. The agency would not disclose how many people had enrolled, she said.
"We are making the improvements as we speak," Tavenner said. "We expect that we're going to be able to speed it up -- and we have sped it up already -- in the coming hours." Tavenner emphasized that the enrollment period is months long and that people will have time to sign up. The administration thinks most consumers will make decisions about Obamacare later in the year.
The apparent high interest in using the health insurance exchanges -- online marketplaces for the uninsured and people who don't get job-based health benefits -- wasn't limited to the 30-plus states serviced by HealthCare.gov. Sixteen states and the District of Columbia also at least partially launched their own health insurance exchanges on Tuesday. In New York, the State of Health exchange logged more than 10 million visits, the agency announced.
Kentucky's health insurance exchange, called Kynect, took in nearly 2,000 applications and completed 1,235 of them, and its website received 57,625 visitors, according to a news release. Connecticut's Access Health CT also reported completing some enrollments.
Visitors to state-run exchanges ran into technical problems, too. On New York State of Health, Maryland Health Connection, Kynect, Connect for Health Colorado, Rhode Island's Health Source RI and others, consumers faced obstacles to setting up accounts or comparing plans -- or even viewing the websites at various points in the day.
Before You Go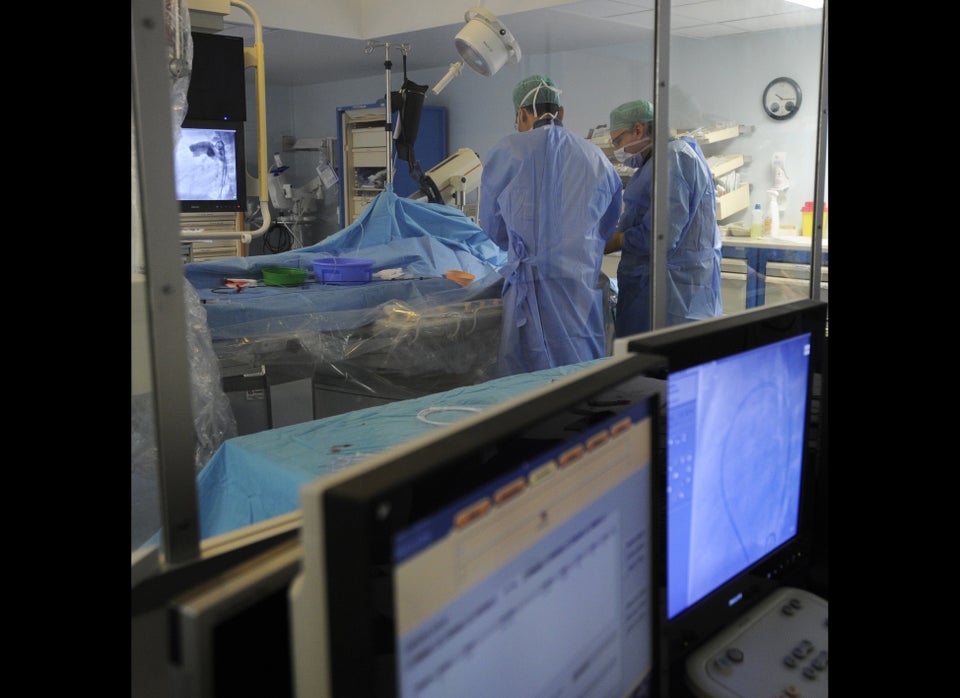 Lies And Distortions Of The Health Care Debate
Popular in the Community