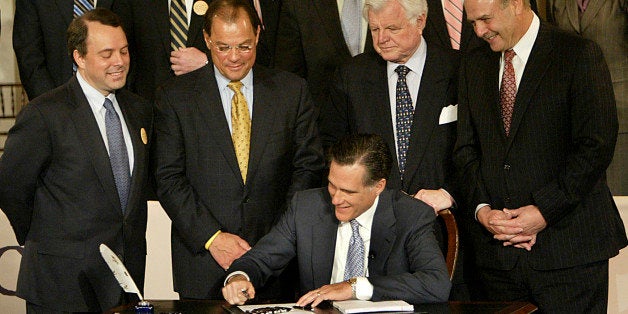 Fewer people died in Massachusetts after the state enacted its landmark legislation to cover the uninsured, according to a new Harvard University study that could have implications for the effects of Obamacare.
A Harvard team compared the mortality rates in Massachusetts before and after then-Gov. Mitt Romney (R) signed the health care reform bill into law in 2006 with the mortality rates in similar counties in other states during the same time periods. Based on their calculations, the mortality rate declined 2.9 percent overall among adults 20 to 64 years old after the law went into effect -- which translates into 8.2 fewer deaths per 100,000 people. So-called Romneycare served as a model for President Barack Obama's Affordable Care Act.
The analysis, which was published by the Annals of Internal Medicine Monday, is the latest attempt by researchers to prove the seemingly obvious relationship between health coverage and the access to medical care it brings with improved health and longer lives. In spite of this intuitive connection, previous research has produced inconclusive results and inflamed scientific and political controversy about whether being uninsured consigns people to poorer health and shorter lives.
Researchers led by physician and economist Benjamin Sommers of the Harvard School of Public Health didn't attempt to provide a definitive answer to these larger questions. However, they did conclude that the lower mortality rate they observed appears to be real, even if its national implications are uncertain amid the reduction in the number of uninsured people seemingly brought about by Obamacare.
"We find a significant reduction in mortality among nonelderly adults in Massachusetts since its 2006 reform relative to a control group of similar counties in states without such reforms. Although this analysis cannot demonstrate causality, the results offer suggestive evidence that the Affordable Care Act -- modeled after the Massachusetts law -- may impact not only coverage and access but also mortality," the report says.
"The extent to which our results generalize to the United States as a whole is therefore unclear, which underscores the need to monitor closely the Affordable Care Act's effect on coverage, access, and population health across all states," Sommers and his co-authors wrote.
The researchers emphasized that their findings cannot prove that expanding health insurance coverage led directly to lower mortality, and noted that they did not have access to information about specific, individual cases. Researchers used data in Massachusetts and elsewhere in the county from the federal Centers for Disease Control and Prevention and the U.S. Census Bureau to create their comparisons.
The effects of expanding coverage in Massachusetts appear more significant when narrowed down to health problems that can be treated or prevented when individuals have access to medical services. The researchers found the mortality rate for people with these "causes amenable to health care" -- including issues like cancer, infections and cardiovascular disease -- decreased by 4.5 percent in Massachusetts after Romneycare when compared to counties with similar populations. And the connection between expanded coverage was even stronger among people who live in counties with lower income and higher rates of uninsurance, the report says.
If the results of the Harvard analysis are correct and can be applied nationwide, the impact of Obamacare would be significant. According to the Congressional Budget Office, the Affordable Care Act will reduce the number of uninsured people by 12 million this year and by 26 million as of 2017.
Past research attempting to measure the effect of health coverage on health and mortality has produced mixed results. In 2002, the prestigious Institute of Medicine issued research concluding that 18,000 people died in 2000 because they had no health insurance. Six years later, an attorney at the Urban Institute, Stan Dorn, duplicated the IoM study with new data and reported that 22,000 people die each year because they have no health insurance.
But in 2009, political scientist Richard Kronick, a former adviser to President Bill Clinton's administration who was then employed by the University of California at San Diego, reexamined the Institute of Medicine research. Kronick determined that when underlying health factors of the population were considered, no connection could be proven between health coverage and lower mortality. Kronick currently serves in the Obama administration as director of the Agency for Healthcare Research and Quality.
Results of the Oregon Health Study, a major project attempting to measure the effects of health coverage among individuals who won a lottery to sign up for Medicaid in the Beaver State, have also fueled debate about whether providing insurance benefits improves health and prolongs lives. In 2012, researchers revealed that new Medicaid enrollees reported they were in better health than those who lost the Medicaid lottery. But last year, another Oregon Health Study publication didn't find significant improvements in blood pressure and cholesterol among these Medicaid beneficiaries compared to those who couldn't join the program, although those on Medicaid showed improved mental health.
Harvard's Sommers, the author of the new study looking at Massachusetts, serves as an adviser to the U.S. Department of Health and Human Services. The report states that the study's conclusions do not represent the views of the Cabinet agency, and Sommers and his colleagues received no outside funding for their work.
Related
Before You Go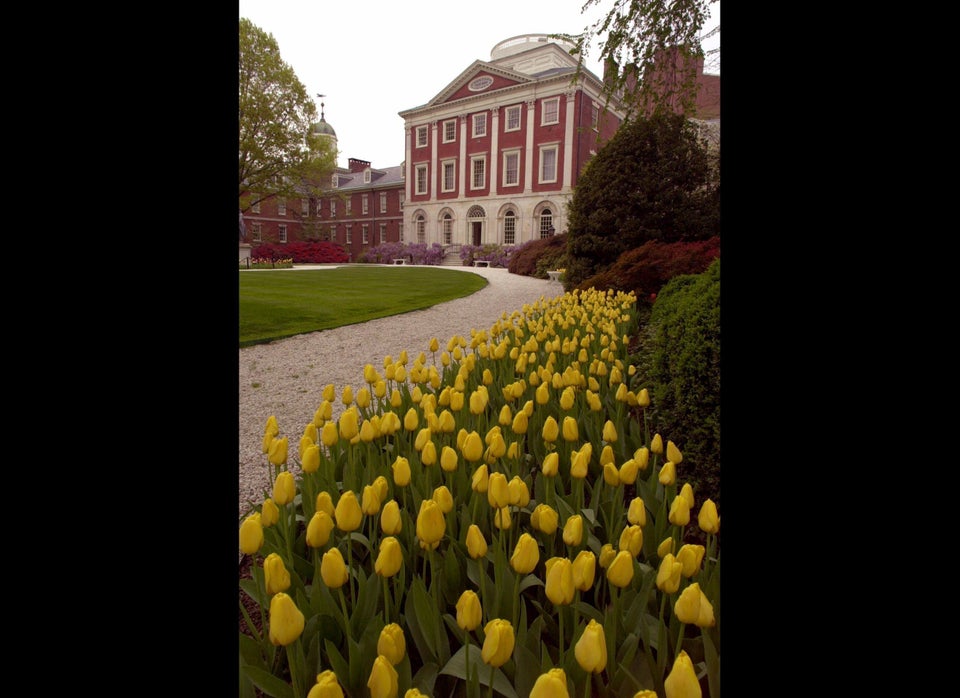 10 States Spending The Most On Health Care
Popular in the Community