 Health care reform rules aimed at pressuring health insurance companies to become more efficient saved consumers nearly $1.5 billion last year, according to a study released by the Commonwealth Fund on Wednesday.
The health care law enacted by President Barack Obama requires that health insurance companies selling plans to individual consumers spend at least 80 percent of the premiums they collect on medical care. Health insurance companies selling plans to groups of at least 50 people, such as employers offering benefits to workers, must spend 85 percent of premiums on medical care. Companies that fail to meet these standards under the so-called medical loss ratio rule must refund the difference to their customers.
Health insurance companies responded to this requirement by cutting overhead, delivering rebates and, in some cases, reducing profits, according to the study, which was authored by Michael McCue of Virginia Commonwealth University in Richmond and Mark Hall of Wake Forest University of Winston-Salem, N.C. The study was issued by the Commonwealth Fund, a research institution.
"The medical loss ratio requirements are intended to give insurers an incentive to be more efficient and use most of their premium dollars for patient care," Sara Collins, the vice president for affordable health insurance at the New York-based Commonwealth Fund, said in a news release. "This report is encouraging, as it demonstrates that these new rules are improving value for people buying health insurance."
People who buy health insurance on their own, rather than get coverage at work, saw the biggest benefits, the researchers concluded. These consumers got $394 million in rebates, and the companies providing insurance in the individual market reduced overhead by $209 million, according to the report. Health insurance companies saw profits disappear for individual products when compared to 2010. Profit margins fell from 0.15 percent to -1.2 percent, the study found, with profits falling by $351 million.
Although these consumers benefited in the short-term, negative profit margins are cause for concern, the researchers cautioned. If insurance companies can't profit from selling products to individuals, or can't make large enough profits selling to groups to offset other losses, then it could become harder to find coverage in the future, the report said.
"Going forward, if insurers are not able to balance overall profitability in this manner, some might choose to withdraw from less-profitable market segments, which could leave consumers with fewer choices as well as higher premiums," McCue and Hall wrote. Between 2014 and 2022 under Obamacare, an estimated 25 million uninsured people will gain access to private health insurance on the state-based health insurance exchanges, the online portals where consumers will comparison shop for plans and learn whether they qualify for financial assistance.
For group health plans offered by employers and others, health insurance companies achieved administrative savings while boosting profit, the report shows. Groups of up to 50 people received $321 million in rebates due to the new regulations, and their insurers reduced overhead by $190 -- but increased profit by $226 million. For larger groups, rebates totaled $386 million, overhead cuts came to $785 million and profits rose by $959 million.
Insurance companies selling coverage to groups were able to cut administrative costs and keep much of the difference because they tended to already meet the law's 85 percent standard, the report concludes.
The health insurance industry has largely opposed the new requirements, contending that mandates on how much they must spend on medical care don't reflect an understanding of the underlying costs of health care services. "There is broad recognition that health care costs are rising at an unsustainable rate. But the data are very clear that soaring medical costs -- not health plans' administrative costs -- are driving health care cost growth," read a statement issued Wednesday by America's Health Insurance Plans, a lobbying organization.
Before You Go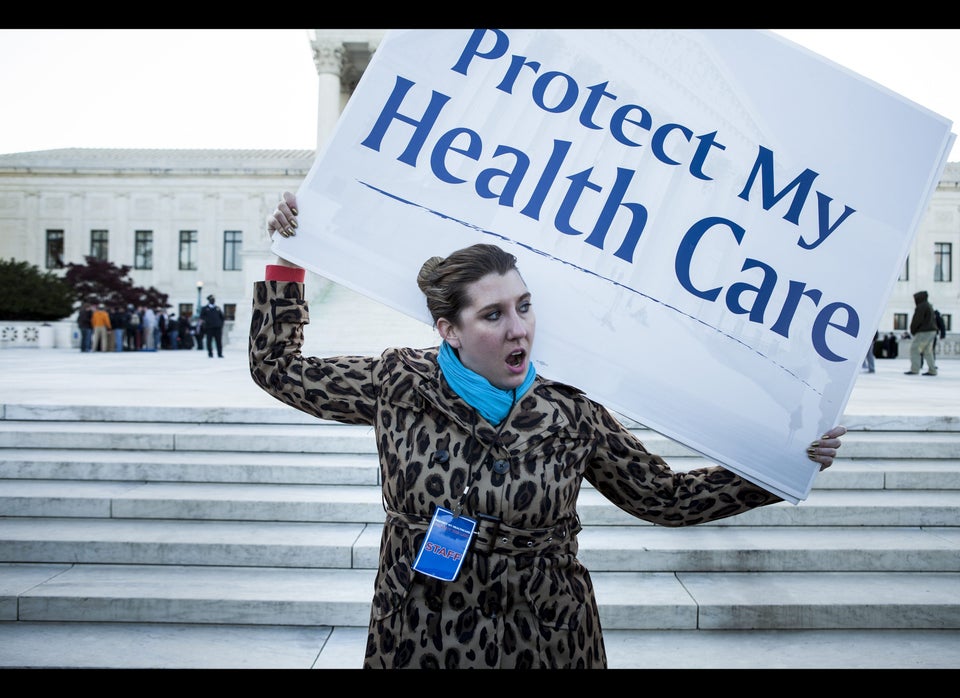 What Will Health Care Reform Do For You?
Popular in the Community