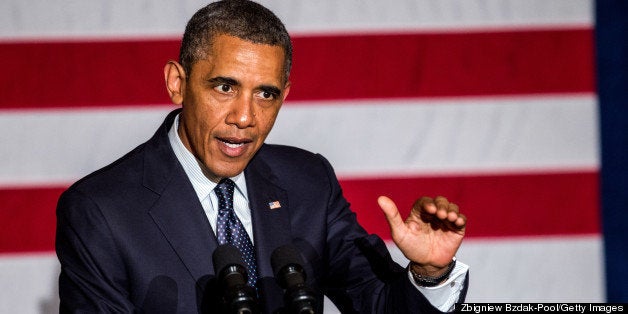 The competitive marketplace envisioned by the health care reform law is a significant departure from the status quo for individuals and small businesses, in which one or two companies typically control a large share of the market.
Obama has emphasized that the health care reform law will increase competition among health insurance companies for individuals and small businesses by introducing new health insurance offerings to the market. Although the federal government hasn't completed contracts with health insurers under the law, the early signs are positive, according to senior administration officials who briefed reporters at the White House on the condition they not be named or quoted.
The administration memo includes preliminary findings from about 19 states, including some that are operating their own health insurance exchanges. Administration officials acknowledged that the number of health insurance companies and the variety and quantity of health plans available could be different than the early signs suggest and will vary from state to state.
In the 19 states included in the administration's analysis, about nine in 10 will allow consumers to select from among at least five health insurance companies, according to the memo. At least one company wants to enter a state where it currently does not do business in about three-quarters of the states where the federal government will oversee a health insurance exchange, the administration reported based on preliminary information. Of the health insurers that applied to participate in federally run exchanges, one-fourth haven't offered plans to individuals before, the administration said.
The current health insurance market for individuals and small companies isn't characterized by choice. In 46 states, two health insurance companies have at least half of the customers in this segment of the market, according to the administration memo, which cites 2011 data from the National Association of Insurance Commissioners. Two companies cover more than 85 percent of individuals who buy their own health insurance in 11 states. In 29 states, a single company has more than half of the customers.
In addition to touting the number of health insurance companies seeking to do business with federally run exchange marketplaces, the Obama administration said that most people shopping for individual coverage will be able to choose from multiple products. Each health insurance company that participates in an exchange will sell an average of 15 different products in a state, according to the memo.
On top of the state-by-state contracting being conducted by the Department of Health and Human Services, the federal government is negotiating with health insurance companies that want to offer the same products in multiple states. More than 200 so-called multi-state plans are being vetted by the Office of Personnel Management, the agency that oversees federal employee benefits. According to the memo, multi-state plans will be sold on exchanges in at least 31 states next year and will expand nationwide by 2017.
Several states already have disclosed information about the health insurance products that will be available to their residents on the exchanges next year, and the results are mixed.
Likewise, state reports about health insurance premiums under Obamacare vary.
Under the health care reform law, individuals and small businesses will have access to five categories of health insurance with different levels of coverage. Four are named after precious metals -- bronze, silver, gold and platinum -- to indicate the amount of health expenses they will cover and the expected monthly price. Less costly so-called catastrophic health insurance that offers minimal coverage will be available to people younger than 30. Health insurers must offer at least one silver and one gold plan to participate in any exchange.
The law also provides varying degrees of financial assistance based on income. A single person who earns less than 133 percent of the federal poverty level, which is $14,582 this year, will be eligible for Medicaid benefits in states that opt to expand the program under Obamacare. Tax credits will be provided for private health insurance to people who earn between the poverty level, which is $11,490 for an individual this year, and four times that amount. Tax credits can't be applied to the catastrophic plans for young adults.
Read the full memo below:
Calling all HuffPost superfans!
Sign up for membership to become a founding member and help shape HuffPost's next chapter
BEFORE YOU GO
PHOTO GALLERY
People Comparing Obamacare To Hitler, The Holocaust Or Nazi Germany