The number of Americans without health insurance declined by 10.3 million because of Obamacare enrollment, according to a report from the Department of Health and Human Services and the Harvard School of Public Health, published in The New England Journal of Medicine on Wednesday.
That represents a reduction in the uninsured rate for adults aged 18 to 64 from 21 percent last September to 16.3 percent this April, the HHS analysis concludes. The lower rate remained stable through June. The first open enrollment period under Obamacare began Oct. 1, 2013, and officially ended March 31, 2014.
The adult uninsured rate has declined across all ages, racial and ethnic groups, and among men and women, according to HHS. The report is based on previously reported Gallup survey data and a comparison to health insurance exchange enrollment numbers compiled by HHS.
It doesn't offer a hard count of how many of the Obamacare insured -- that is, the more than 8 million people who enrolled in private health insurance via the exchanges, or of the millions more who signed up for Medicaid or the Children's Health Insurance Program or bought coverage directly from an insurer -- were uninsured before. The New England Journal of Medicine article is nonetheless the closest to an official federal account to date of the Affordable Care Act's impact on the uninsured.
According to HHS, the drop in the uninsured was more pronounced in the 25 states and the District of Columbia that adopted Obamacare's expansion of the Medicaid program before this year, and wasn't statistically significant in the 25 states that didn't. In the Medicaid-expanding states, the uninsured rate for people newly eligible fell 6 percentage points, compared to 3.1 percentage points in non-expanding states.
Uninsured Rate Among Adults 18-64 From January 2012 to June 2014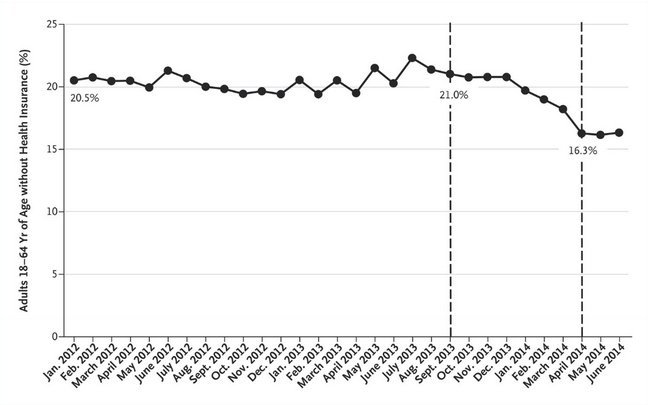 Source: New England Journal of Medicine
Related
Popular in the Community